Baby, it's cold outside! As if getting kids and teens to do things outside their rooms wasn't already a challenge, that feeling that this time of year equals hibernation often doesn't help your kids embrace winter activities. From a parent's point of view, social media posts that make it seem like families have escaped to a sunny shore or slopes holiday, or became Martha Stewart at home, can make you downright grumpy. Fear not! Here are some fun and cheap winter activities for kids and teens.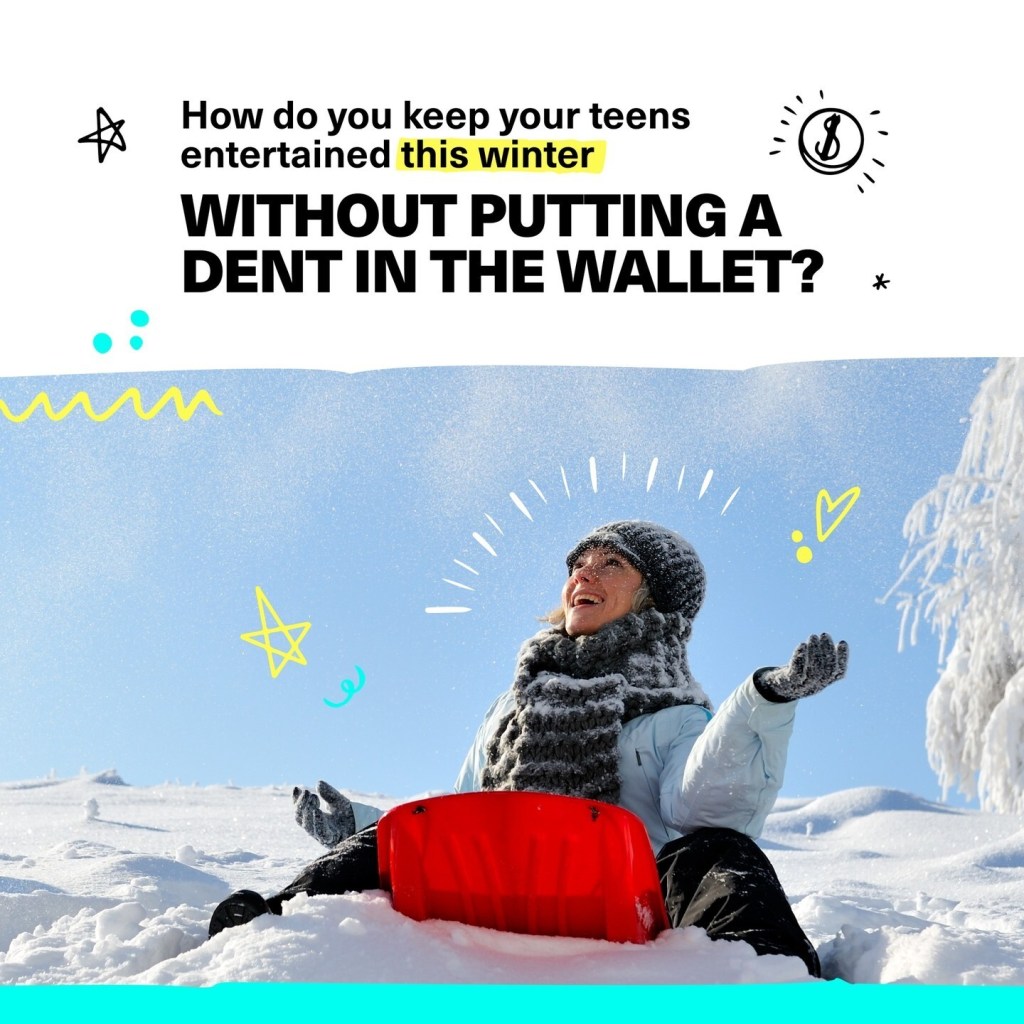 Why families should embrace winter
Studies have shown the long-term health and mood benefits of welcoming winter to get through the darker, colder months, and there's a lot we can learn from Scandinavian cultures. Norwegians have a term called friluftsliv, which loosely translates to "the outdoor life," meaning there's no bad weather, just bad clothing choices, and getting outside for winter fun is simply a way of life. In Denmark, they adopt hygge, making things cozier with fabrics and candles to bring warmth and light to the depths of winter. Embracing specific mindsets and habits around winter activities can really help to make wintering something you can look forward to.
Whether you're looking for fun ways to spend a chilly weekend or ideas for celebrating a more extended holiday break or Family Day, getting kids out for fresh air or engaging with you at home doesn't have to mean a champagne and caviar budget. Once you get everyone past the eye-rolling and grumbling, there are loads of fun, cheap winter activities to do together that help to keep your bodies moving and warm while getting in some quality family time.
Bonus: Practice financial literacy for teens by setting a budget as a family and make a list of options. As you knock off your family's winter bucket list, hang onto your receipts and track your spending as you go along.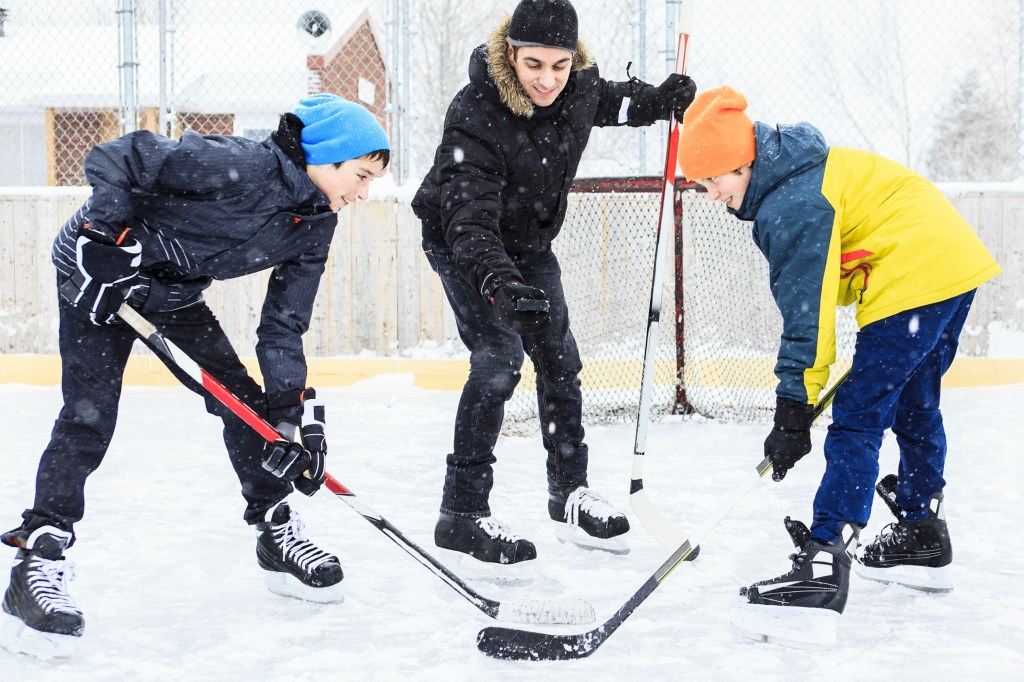 8 outdoor winter activities for families
What is it about the promise of hot chocolate that entices kids outside? We don't know, but every single one of these fun outdoor winter activities for kids can be made cozier with the addition of a warm drink or even some soup (or go wild with a winter picnic spread). Keep extra blankets handy to stay toasty.
1. Outdoor skating
Finding a skating rink is usually pretty straightforward in a wintery country like Canada. After the upfront cost of renting equipment or buying it (perhaps gently used for affordability), outdoor ice-skating becomes more economical over time, with many public rinks being free or low-cost. For extra adventure, plan to head out further and make a day of exploring a new neighbourhood or town after a friendly Battle of the Blades-style competition.
2. Tobogganing
You don't need a state-of-the-art snow rocket to have a blast on a hill. Grab your slider of choice and make it more challenging for older kids by creating tracks, racing (parent vs. kid), creating snow ramps, and developing a rating system for all the local hills you'll try out.
3. Snow football
Tackle and touch football in the snow can be hilarious, thanks to the lack of grip on winter gloves or mitts. Plus, diving to make that epic catch will get cushioned by soft powder. Bring some non-toxic watered-down paints to create an end-zone in the snow. Don't forget to embarrass your kids with the ultimate touchdown dance.
4. Winter hiking
Many publicly funded parks in Canada take great care to keep trails clear for winter hiking. Create a scavenger hunt to focus on nature and see who can discover the rarest bird or animal tracks. Or bring snowshoes or cross-country skis and venture into less-travelled territory (but stick to marked trails for safety).
5. Shovel a neighbour's property
Snow is inevitable, but shovelling can be a sport! Make a game of a necessary task by seeing who can make the most enormous snow pile or shovel the most neighbours' sidewalks. Doing nice things for other people has been scientifically proven to have mood benefits.
6. Winter market or festival
A nearby winter market or outdoor festival can feel like being in a little Scandinavian village. Try new treats, ride a Ferris wheel if they've got one, and make sure to take as many Instagram-worthy photos as your tween or teen will allow.
7. Winter bonfire
Whether you have access to a personal fire pit or can rent a public one, dressing in all the layers and gathering 'round a roaring bonfire in the dark can make much merriment. Add S'mores and hot beverages, ghost stories or singalongs, and find the warmth of being with folks you enjoy in a different setting.
8. Outdoor winter games
It takes some planning, including buying some inexpensive prizes, but the multi-generational joy that a made-up winter sporting event can create is priceless. Blindfold someone and have their partner guide them to a hidden treasure with voice directions only. Make snow-people; the most-creative execution wins. Pass a snowball from spoon to spoon and carry it to the finish line without dropping it.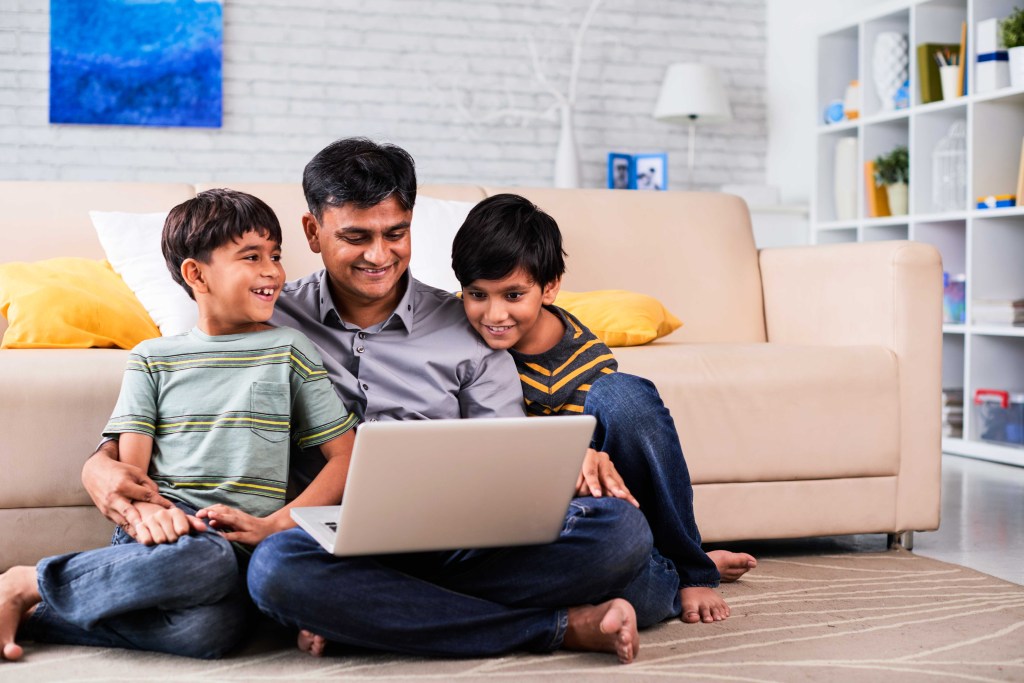 6 indoor winter activities for families
The best part of doing fun and cheap winter activities outdoors is often coming home to a cozy nest. Keep everyone from getting bored with these six winter-friendly indoor activities you can try together.
1. Baking competition
Watch a few episodes of Nailed It! or The Great Canadian Baking Show for inspiration, then get out the flour and get creative. Whether decorating cookies, cupcakes, or other eye-popping desserts, baking is precise and requires attention, which can be highly meditative and calming. Video call your distant family or friends and ask them to judge your creations. Or drop extras to neighbours or loved ones for a surprise and delight moment.
2. Movie marathon
The best part of winter can be that endless jammie time. Attempt to get through a film series together, like all the Harry Potter films, Lord of the Ring, or Studio Ghibli movies. Snacks are essential, and delegating the menu to other family members (like your tween or teen!) can make for a bit of friendly competition.
3. Board game tournament
Dust off the Uno, Risk, or whatever mix of old favourites or new board game boxes you've got lying around. Many board games can also double as fun money games for kids to help teach basic money concepts. Determine parameters in advance, like how many games in a row you'll play, what constitutes winning, and whether you'll whittle down to the finals round-robin-style. Sore loser behaviour means they're in charge of refilling everyone's drinks and snacks!
4. Camp out
Either as a sleepover with friends or just as a family, dust off the tent and sleeping bags and set up camp in the living room or basement. Create a camping-style menu (think: hot dogs, mini-boxed cereals, S'mores). Pretend it's raining and play cards in the tent.
5. Learn a TikTok dance
We guarantee laughs when you learn a trending TikTok dance as a family. See who can get the steps right the fastest, but don't post without everyone's consent!
6. Homemade pizza night
Get some fresh dough and watch a few videos to learn those twirly pizzeria moves. Set the table up in stations with a plethora of toppings and taste test everyone's combinations or thoroughly enjoy your own personal pizza.
5 activities to learn and experience through the winter
Combine learning and fun with these five ideas that stretch your brain while having rewarding together time. If guided activities are more your speed, be a joiner and consider signing up for more organized events.
1. Volunteer
You don't need to plan an international trip to make a big impact. Many local food banks and shelters need assistance picking up and packing items to share with their community. You'll feel good contributing to making your neighbourhood a more caring space together.
2. Family fitness challenge
Set some family goals for increasing strength and/or flexibility, sign-up for online classes or watch free online videos on platforms like YouTube. Make printable charts to track everyone's progress and commitment level and post it in a visible (read: motivating) spot. Choose a reward for the person who improves the most.
3. Take an online class
Learn a new language together, be it Spanish or coding. Or look into creative pursuits like learning the ukulele or art classes. Tie the learning to a longer term goal (e.g. a trip, a new gallery wall) to keep everyone engaged.
4. New small business idea
Watch a few episodes of Shark Tank or Dragon's Den for inspiration. Then everyone goes off and comes up with their innovative business idea. Create presentations and even prototypes if you'd like. Find a group of family or friends to judge your final demonstrations. Who knows? You might just inspire the next generation of young entrepreneurs. 
5. Digital detox day
Agree upon a day a month where no devices are used. Turn off the Wi-Fi, put phones in a box and try any of the more analog ideas listed above (like hauling out a family board game). At the end of the day, have an informal family meeting where everyone discusses what they noticed and what they learned in the absence of technology.
How Mydoh can help raise money smart kids
After a full winter of trying out fun things to do outside, indoors or activities to learn, evaluate as a family what is worth a repeat. Raising money-smart kids? Encourage your child to track and review spending on each activity to compare and contrast. Which event cost the most? How would the sum total compare to a more lavish winter vacation?
Mydoh can help kids and teens who need some practice in money management! Parents can set up tasks your child can complete to earn a weekly allowance. This will help them learn how to make their own cash, save it, and spend it wisely. Learn more about the Mydoh digital Smart Cash Card.
Download Mydoh and help build the foundation of financial literacy for your kids and teenagers.
This article offers general information only and is not intended as legal, financial or other professional advice. A professional advisor should be consulted regarding your specific situation. While the information presented is believed to be factual and current, its accuracy is not guaranteed and it should not be regarded as a complete analysis of the subjects discussed. All expressions of opinion reflect the judgment of the author(s) as of the date of publication and are subject to change. No endorsement of any third parties or their advice, opinions, information, products or services is expressly given or implied by Royal Bank of Canada or its affiliates.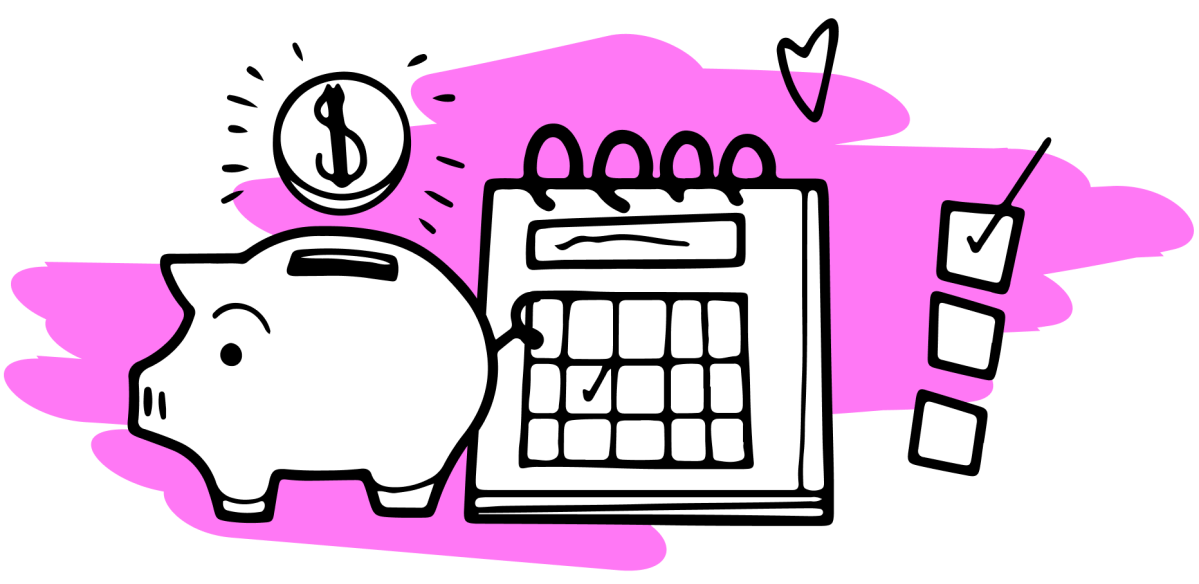 Teach Your Kids How To Earn, Spend & Save Money
with the Mydoh App & Smart Cash Card.
After the trial, Mydoh is just
$2.99 per month