It feels like kids and teens are glued to screens more than ever. Digital devices are integrated into just about every aspect of kids' lives—from doing homework online to texting friends to watching YouTube videos, or playing video games. 
Parents, you may be worried your kids spend too much time on screens, and you're not alone. Mediasmarts research on the digital wellbeing of families found that three-quarters of parents in Canada were concerned about how much time their kids were spending consuming media, including social media and the internet. This was even before the COVID pandemic forced daily activities like school and extracurriculars online.
Screen time can be a good thing and research found it has social benefits like maintaining diverse friendships or co-viewing with family. However, like many things in life, moderation is key.
Luckily, there are ways to manage and limit screen time, and empower kids to take charge of their own digital behaviours through healthy examples of your own. We've pulled together some tips to help you get started.
What is screen time?
The Canadian Paediatric Society defines screen time as "time spent with any screen, including smart phones, tablets, television, video games, computers or wearable technology."
In short, it's any activity that uses a digital screen. Screen time can be spent watching YouTube videos, playing a game on a cell phone or computer, or playing Roblox on a computer. It also includes time spent texting, searching online, and scrolling or messaging through social media like TikTok and Instagram.
At what age should parents limit screen time?
The Canadian Association of Optometrists recommends no screen time for children under two years of age, except for occasions when there is a social benefit, like video-conferencing with family members. For kids aged two to five, the Canadian Paediatric Society recommends limiting regular screen time to less than one hour a day.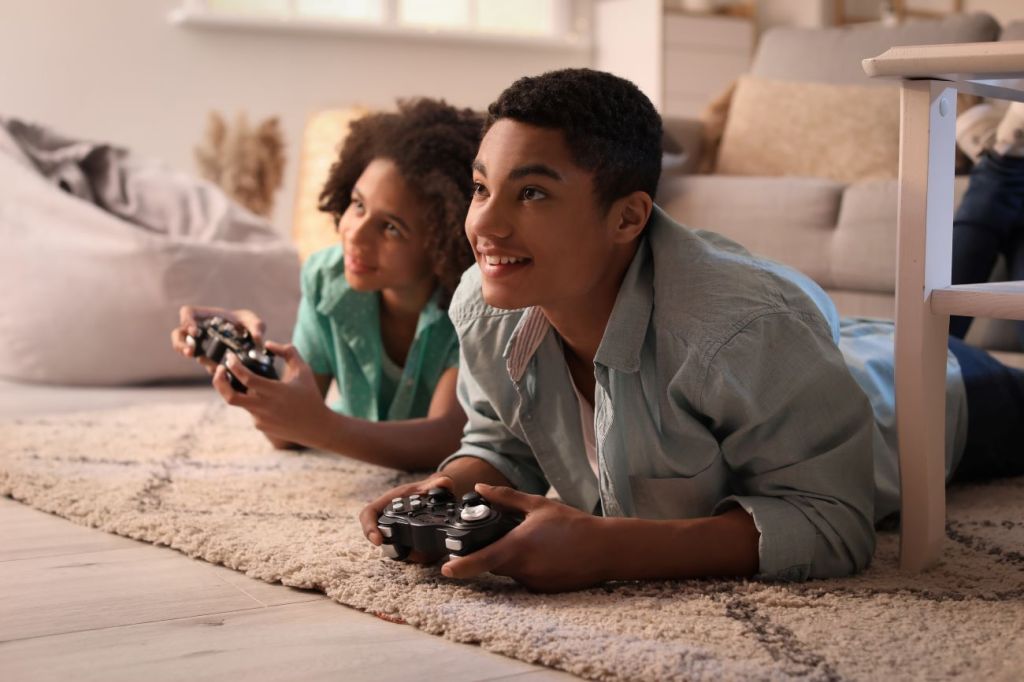 How much screen time should kids and teens have?
There's no magic number when it comes to the recommended screen time for kids, but experts like The Canadian Association of Optometrists have weighed in with suggestions. The organization suggests no more than two hours per day of recreational screen time for school-aged children like tweens and teens.
There are also positives to screen time and digital technology in children's lives. Learning how to use apps and digital software now can help them learn important skills for the future. And moderate amounts of recreational screen time (such as an hour a day) have been associated with lower depression risks, compared to no screen time at all.
How does excess screen time affect kids?
Kids and teens spend a lot of time watching screens, and the average screen time for teens is growing. Teens in Ontario and Alberta reportedly spend more than 7.5 hours a day on screens, and 20 per cent of high-schoolers spend five hours or more a day on social media alone.
Too much screen time has been associated with health and mood changes, inactivity, sleep disturbances, behavioural challenges, and families feeling disconnected from each other.
Debates and arguments around screen time usage is normal, especially if you're establishing limits for the first time, but if you worry that your child or teen is suffering from a screen addiction, enlist the help of a professional.
8 tips for managing kid's and teen's screen time
Here are eight tips to help moderate your kids' screen time
1. Set expectations
Talk to your kids about how long they can use screens during the day, what times they can use them, and why you have established limits. Setting routines and offering clear guidelines can help them stay on track and practice self-control.
"The best approach is to agree on the rules for screen use that you'll follow in your home," says Matthew Johnson, the Director of Education at MediaSmarts. "This doesn't have to set a time limit but it should make clear what times, like family meals, and what places, like bedrooms, are non-screen zones. You can also discuss the different things you do with screens and consider which ones are more and less valuable."
Looking for more info? MediaSmarts has also published family guidelines for new tech devices.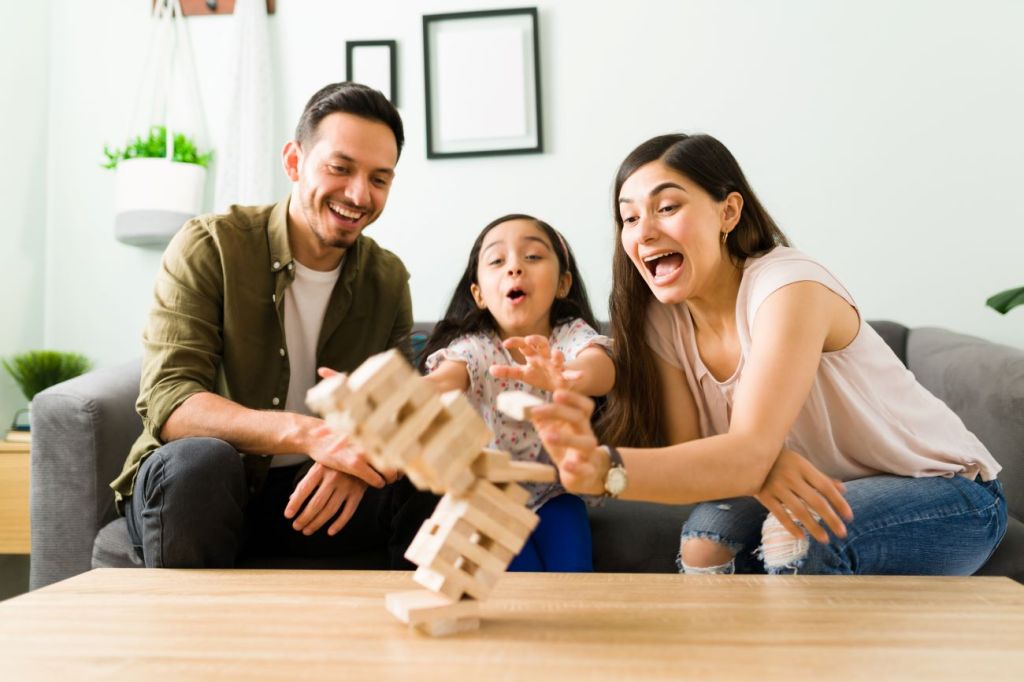 2. Swap screen time for other activities
Establishing daily routines for kids and teens, and scheduling special activities and outings, can help keep them busy and away from screens. Plan a family walk or hike, book regular offline activities such as sports leagues or craft nights. Read books together for an hour before bedtime, instead of your kids scrolling through their cell phone.
When it comes to how to limit screen time on a laptop, offer alternatives to the activities they do most, and find offline alternatives. For example, if they spend their time on social video games like Roblox, try a regular family game night instead.
3. Use a tracking app
Apps to limit your screen time can help you monitor how often your kids are using their phones or other devices. It can also help you limit usage and reduce screen time long-term through a healthy change in habits. While there's no best screen time app for parents (it depends on your needs and preferences), choose apps that openly track the usage as opposed to lurking in the background, so you can promote trust with your teens and help them learn to monitor their own screen time behaviours.
There are lots of parental tracking apps available on the market. Some popular options include Net Nanny, which can limit and monitor screen usage and block certain websites, or Norton Family Parental Controls, with features that can alert you when your child is online and allow you to check-in on what they're doing.
4. Take a digital detox
Agree to take periodic "digital detoxes" together, by disconnecting from screens for periods of time and spending in-person time as a family. This can help your family rediscover ways to have fun, find new interests and hobbies, and learn more about each other.
These mini or extended breaks from screens are often referred to as "digital detoxes." It can be a hard sell to a screen-obsessed kid or teen, but one way to help ease them into it is to offer support along the way. You can agree to do a digital detox together as a family, book a vacation and leave all screens behind, or remove all screens from the home for a period of time.
Detoxing digitally can even become a gift. For example, you can purchase digital detox-themed gift boxes on sites like Etsy, that include cards and prompts for activity ideas, and ways to soothe your eyes like a silk eye mask.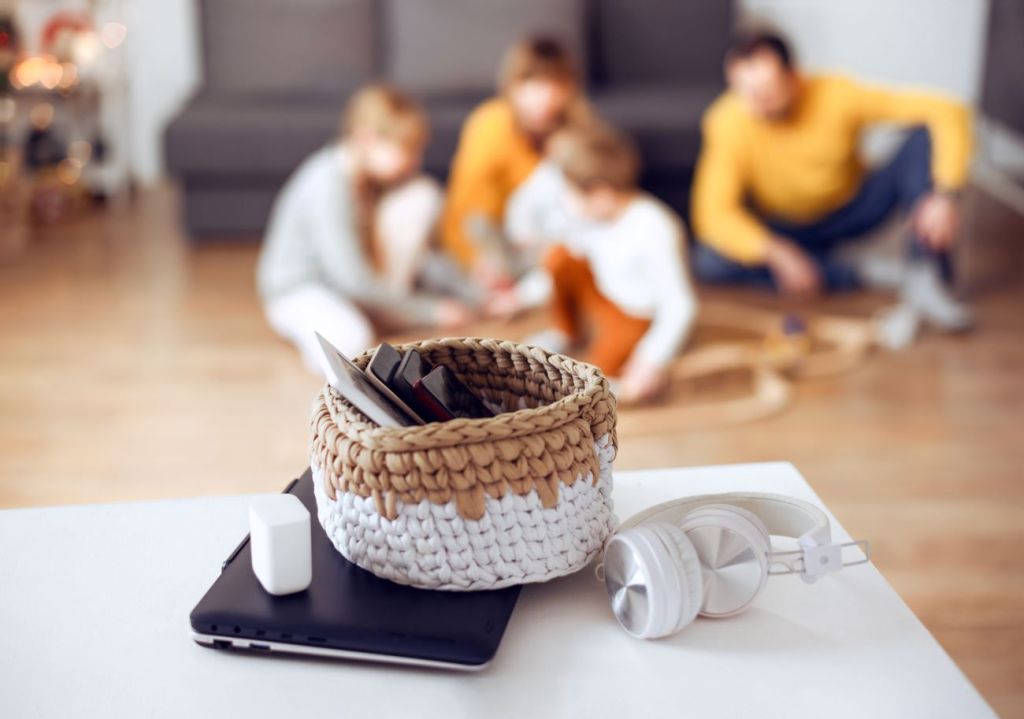 5. Limit screen time before bed
Research has shown that screens in the bedroom, such as TV screens and cell phones, have been linked to disrupted sleep and can cause changes in mood and behaviour.
The Canadian Association of Optometrists, among others, recommends no screen time for an hour before bedtime. Instead, encourage kids to create a bedtime routine that helps them wind down without the help of digital devices, such as reading a printed book, meditating, listening to calming music, or writing in a journal.
You can also use parental controls on their devices to lock and limit screen time before bedtime. For example, on Android phones and Google Chromebooks, you can lock their devices at bedtime, or limit the types of apps they can use at certain times.
6. Model good behaviour
Research has found that many parents consider themselves poor role models when it comes to modelling technology for their kids. This isn't surprising, when so many things now require emails, online forms, conversations by text, or involve working on computers.
However, screen time limits are good for everyone in the family, not just children. Model good behaviour by following the boundaries you set for your kids. For example, if you've banned cell phone use at the dining table, make sure it applies to everyone in the family. Be present during offline activities, and turn off notifications that can distract you.
"Managing your kids' screen time can help you improve your own relationship with devices," says Johnson. "What's more important than specific rules is the values that your rules communicate, like being active or wanting to spend time together as a family. While not everyone in the home has to follow the same rules—it doesn't make sense for a teenager to have the same screen use rules as a five-year-old—you should try as much as possible to model the kind of screen use you want to see in your kids."
7. Use parental controls
Most digital devices and software come with parental controls that can help you monitor and limit usage. For example, Google Family Link has features that allow parents to limit and schedule screen time to specific times, find their location, and more.
Parental controls can help create boundaries for kids and teens on social media and even help protect their privacy.
8. Revisit the rules over time
It's important to work together with your kids and teens to adapt and negotiate screen time guidelines as time goes on, or as routines change. Open communication can help empower them to manage their own screen time use.
"Generally, it's valuable to revisit screen use guidelines anytime your household gets a new device, starts a major new screen activity, like joining a new social network or starting a big new video game," says Johnson. "It's also useful to revisit them as your kids are growing more independent and using devices with less supervision. That's a good time to get them more actively involved in developing the rules so they'll feel more invested in them."
Embracing tech boundaries, routines and limits in this increasingly-digital world takes time, experimentation, and a lot of work, but it's worth the effort. By learning healthy digital habits now, it can help kids and teens live a more balanced life in the present, and in the future.
Download Mydoh and help build the foundation of financial literacy for your kids and teenagers.
This article offers general information only and is not intended as legal, financial or other professional advice. A professional advisor should be consulted regarding your specific situation. While the information presented is believed to be factual and current, its accuracy is not guaranteed and it should not be regarded as a complete analysis of the subjects discussed. All expressions of opinion reflect the judgment of the author(s) as of the date of publication and are subject to change. No endorsement of any third parties or their advice, opinions, information, products or services is expressly given or implied by Royal Bank of Canada or its affiliates.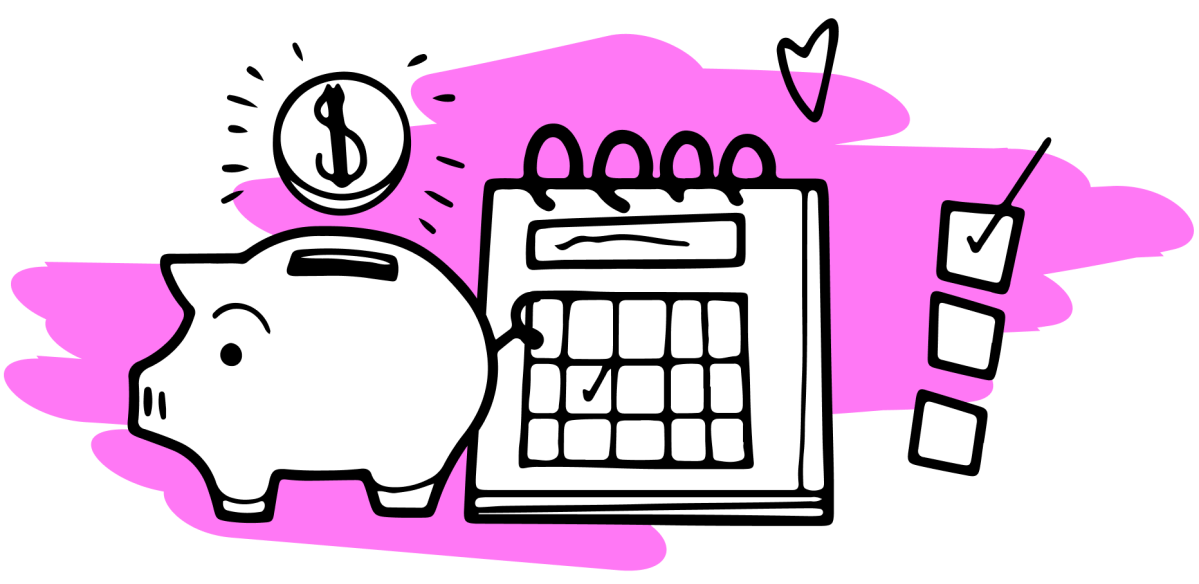 Teach Your Kids How To Earn, Spend & Save Money
with the Mydoh App & Smart Cash Card.
After the trial, Mydoh is just
$2.99 per month