Chore Charts for Kids and Teens
Always reminding kids to do their chores? Download our free chore chart checklists for kids and teens!
Chores can be a great way to teach your tweens and teens about responsibility and even boost kids' self-esteem. But when it comes to keeping track of daily tasks, or remembering to take out the recycling each week, it can be hard for kids to stay on top of their responsibilities. That's why a kids chore chart is a handy visual reminder of what needs to be done—and when.
Tip: Use our allowance calculator to determine how much money to pay for each task!
How to use a chore chart checklist
Who doesn't enjoy that sense of satisfaction when you tackle an item on your to-do list? Help set your kids and teens up for success by printing off a list of their chores that they can tick off as they go.
Step 1: Choose from a range of chore charts for teens and kids below—from daily chores to weekly chores to a visual chore chart.
Step 2: Download or print off as many chore charts as needed and fill them in daily or weekly. Alternatively, you could create a reusable chore chart by simply laminating one of our chore checklists and using a dry erase marker!
Free downloadable and printable chore charts
1. Daily chore chart
Who's doing the majority of the daily chores in your house? If it's you, and you're a parent of tweens and teens, you may want to consider recruiting your kids to help out.
It may seem overwhelming to itemize all the house chores you do every day, but when you clearly identify them, it makes it much easier for your tweens and teens to successfully get them done. (Hint: our daily chore chart checklist will help remind them!)
Download or print a copy of our daily chore checklist for kids and teens.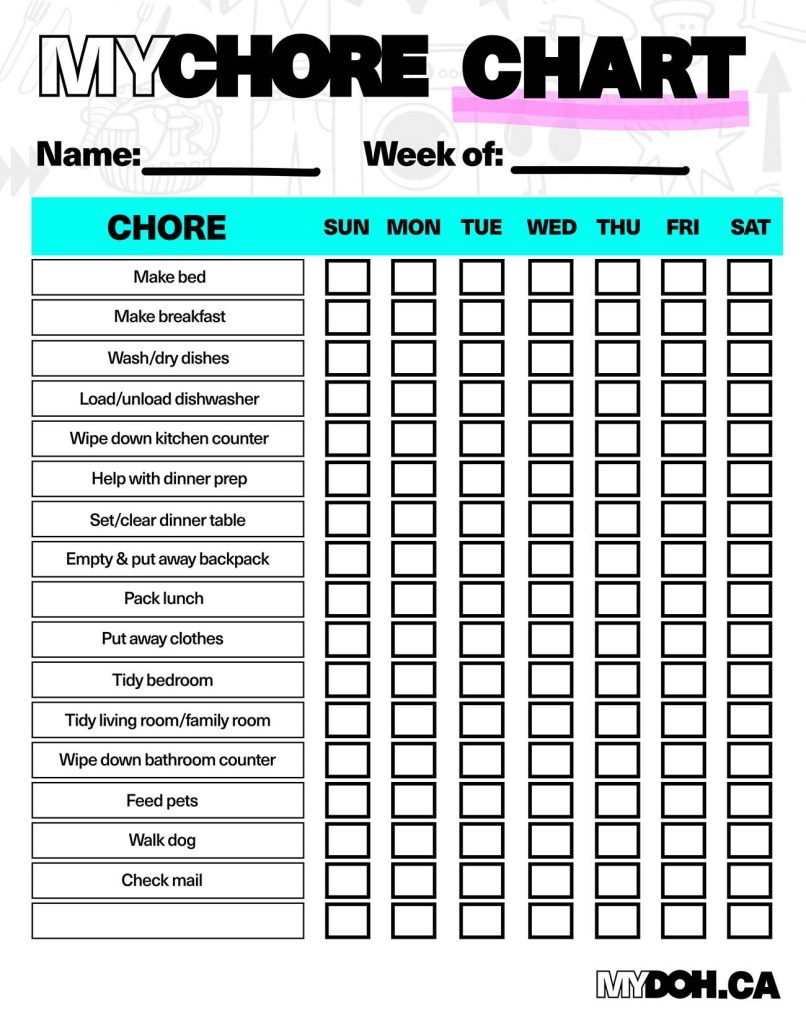 Learn more about daily chores for teens and tweens!
2. Weekly chore chart
Just when you think you've got your daily to-do list under control, you're confronted with a whack of weekly household chores that also need doing. Assigning kids these bigger jobs, which often require more time and effort than everyday chores, is a great way to increase their responsibility as they grow older.
Getting your tweens and teens to help out with weekly house chores not only frees up your time but also encourages them to take pride in their home.
Download or print a copy of our weekly chore checklist for kids and teens.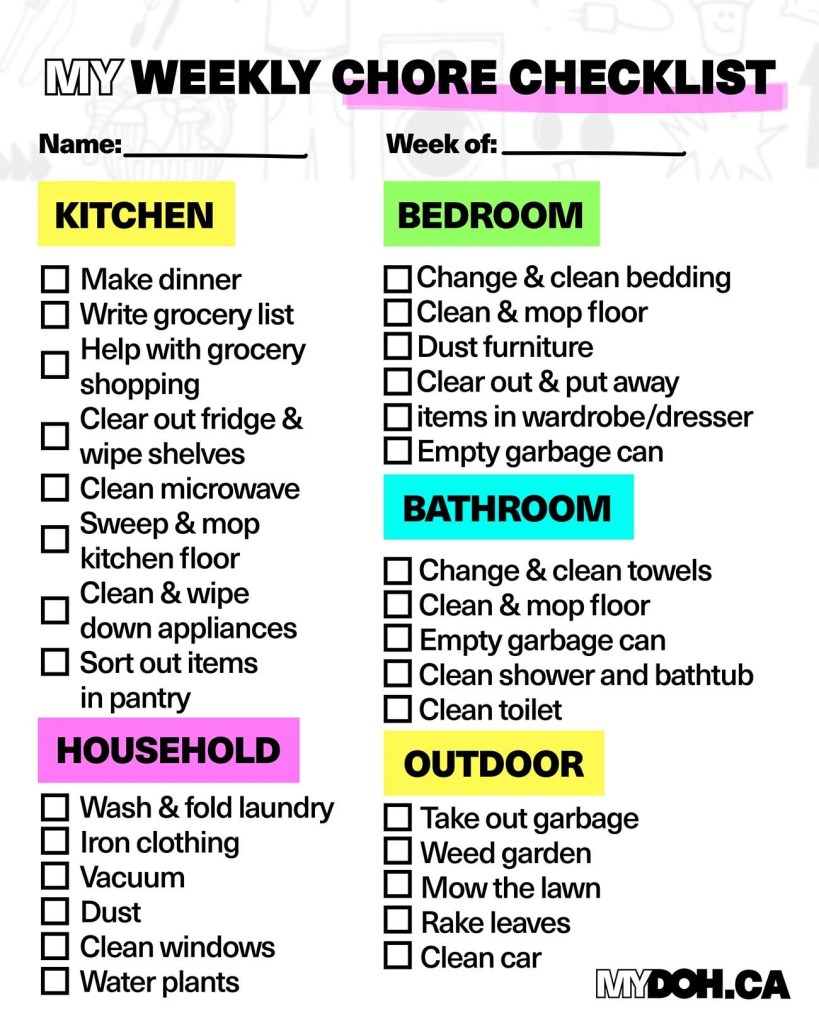 Learn more about weekly chores for teens and tweens!
3. Visual chore chart
Should kids with disabilities do household chores? For many families, the answer is: absolutely! Not only does chores help give all kids a sense of independence, but helping with can also give children with disabilities a chance to actively contribute to the family when they may not often have the chance to help out.
To help adjust to what may be a change in their daily routine, use a visual schedule that features words and pictures. 
Download or print a copy of our visual chore chart for younger children and kids with disabilities.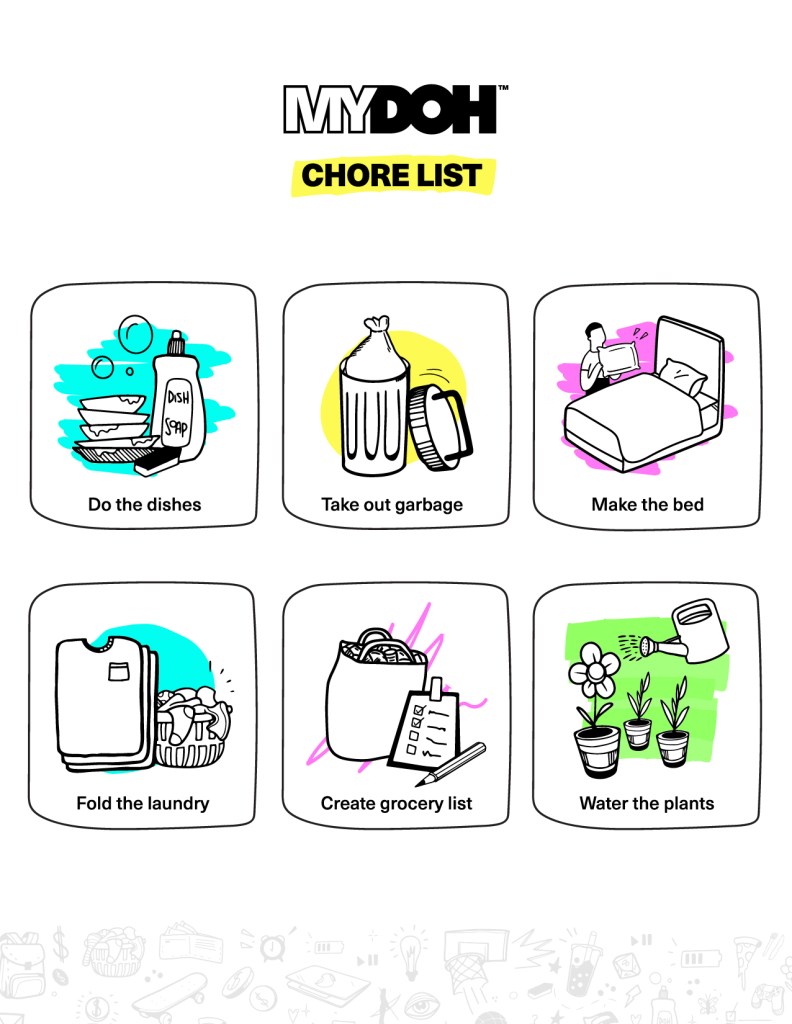 Learn more about household chores for kids and teens with disabilities!
4. Spring Clean Chore Chart
Spring is it's time to throw the windows open to let in the fresh air, scents, and musical sounds of a new season. While that might put a spring in the step of grown-ups, the teenagers and younger children in your family are likely to need some convincing in taking part in a spring clean up.
Make spring cleaning a breeze with this spring chore checklist. Our checklist breaks down the tasks that tweens and teens can tackle room by room.
Download or print a copy of our spring cleaning chore checklist.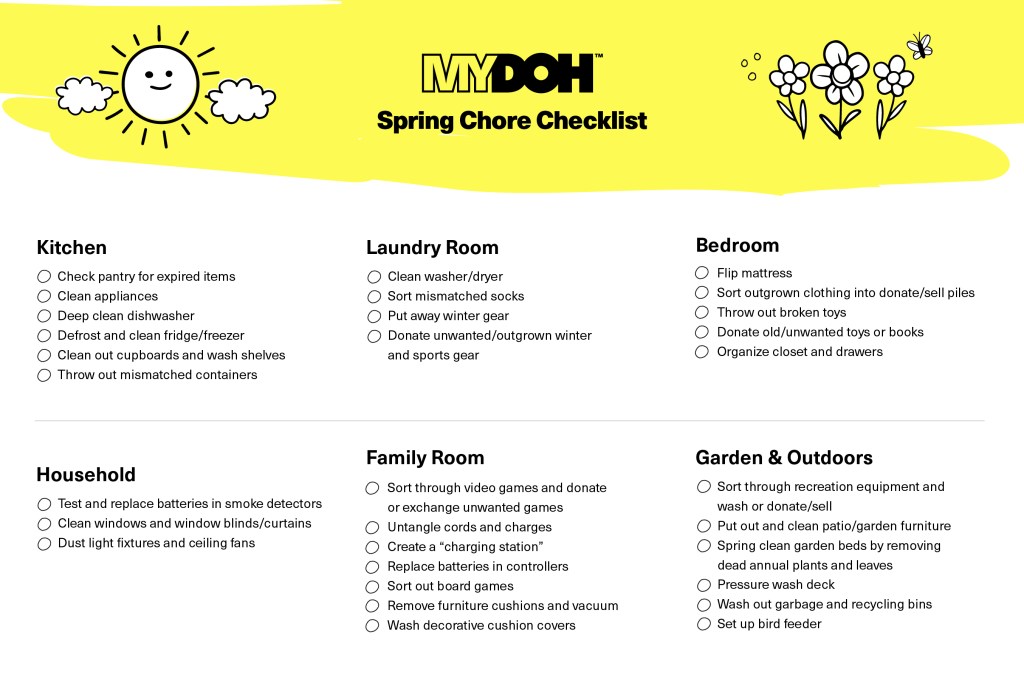 Learn more about spring cleaning chores for kids and teens!
Mydoh helps kids learn, earn, and spend for completing household chores
Chores for kids and teens can be helpful for everyone in the family. And tying allowance to completed tasks is a good opportunity to start teaching financial literacy. Using Mydoh not only helps you track household chores but also gives your kids and teens hands-on experience with earning and spending.
Download Mydoh to help your family build a chore-based allowance system at home.