It's almost time to throw the windows open to let in the fresh air, scents, and musical sounds of a new season. While that might put a spring in the step of grown-ups, the kids and teens in your family are likely to need some convincing in taking part in a spring clean up.
Here are some cleaning tips and chore ideas to help teach your brood how to declutter and get involved in giving your household a spring clean:
What are the benefits of spring cleaning?
While kids and teens may feel like it's no big deal for the floor to be buried or the closets to be overflowing in their rooms, they might be surprised to hear about the benefits of organized spaces for decreasing stress. In fact, studies have shown that messy and cluttered spaces lead to higher levels of the stress hormone cortisol, while the physical act of cleaning up can help to boost the feel-good hormones that improve your overall mood. Those feel-good vibes could extend to others in the home, too. A gentle reminder about the effects of messiness on everyone can help create a collaborative mindset. Especially when spring cleaning becomes a family project rather than assigning household chores to tweens and teens to manage on their own. 
Looking for more chore ideas for spring? Read our article on the best spring chores for kids.
Spring Cleaning Checklist for Kids and Teens
A pep talk is a good first step to help to minimize the sighs and eye-rolling when you hand over that spring cleaning checklist. Before the work begins, remind kids and teens that chores are about more than just getting a job done; they are also great skill builders. Tackling larger house projects could help set your tweens and teens up for managing their own households in the future. Spending time together and working on a shared goal can also help to fill your tween and teens' love buckets, says Judy Rickey, owner of Clutter Relief Services in Hamilton, Ont., even if they're too cool to admit it.
When it comes to spring cleaning, a great place to focus on first are the common areas of the home. There, everyone can pitch in and help to make it less overwhelming to get started.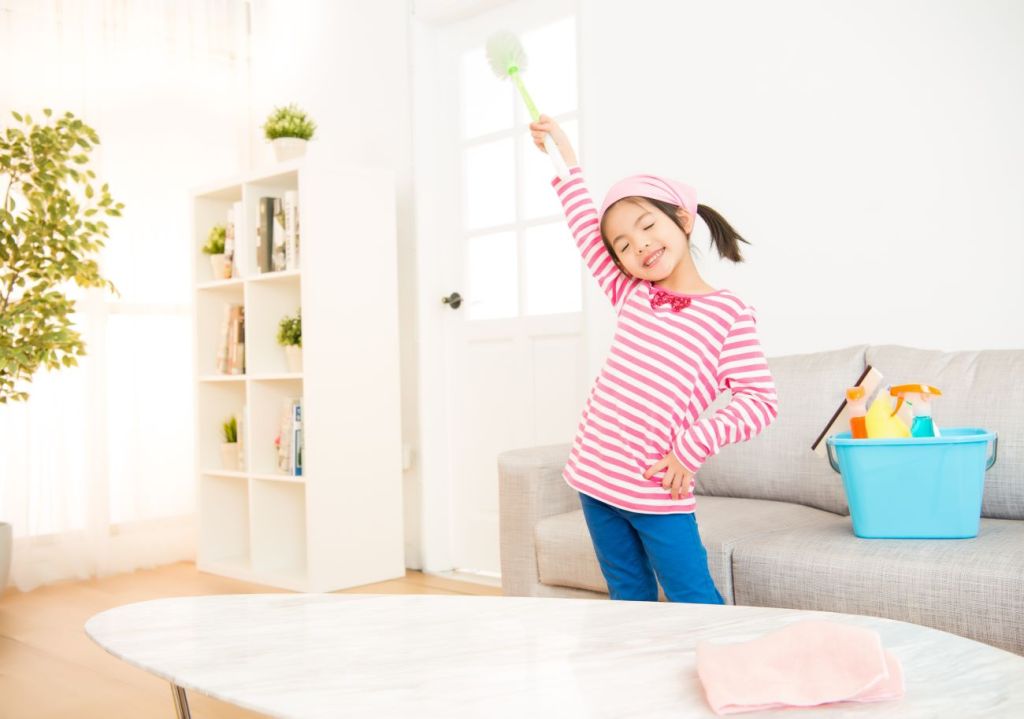 1. Kitchen
The kitchen is a great place for the whole family to work together and tweens and teens can be given smaller, more manageable tasks in this space. Start by clearing out the refrigerator and pantry and checking the expiry dates on the food. Then make lists of anything that needs to be replaced. (Hello, condiments!) Defrost the freezer and deep clean the dishwasher—an environmentally friendly way of doing this is with vinegar and baking soda. Filling up spice containers (and organizing them alphabetically for bonus points) is another great spring cleaning chore that can also be rolled into the task of making a shopping list. Finally, there is always work to be found in the dreaded Tupperware and lunch container drawer, where a game of match-the-lid can keep them busy. 
2. Family Room
The family room is another busy hub and is often a place where clutter can build up easily. A great hack is to have a basket for each family member's belongings. Clear out the chaos first, by having them claim anything that belongs in their own spaces. If it gets left behind, it's fair game for the donation bin—this warning usually gets kids moving quickly. Sort through old video games, board games and books to figure out what can be handed down to another family or donated. Any video games that are still in great condition can usually be exchanged for rewards points towards purchasing a newer version. Don't forget to untangle all those cords and chargers! For the tween or teen that is always complaining about not being able to find one, add "create an organized charging station" to their chore list.
3. Bedroom
Now that you have those tweens and teens warmed up, it's time to send them to their own spaces. This project can often feel daunting for tweens and teens, so get your supplies set up ahead of time. A garbage bag, recycling bag, and clear bag for donations will help create a visual sorting system. Rickey suggests setting a rule for how much space they are allowed. "If their clothes don't fit in the designated closet or dresser, because they've run out of room, it's time for them to do an overhaul of what they have."
Luckily, thrifting for clothes and accessories is really trendy and has helped a lot of tweens and teens see the many benefits of recycling clothes. If they are able to fill a bag to give away, they can reward themselves by dropping it off at a thrift shop in exchange for a couple new pieces for the season. For name brand items, consignment stores are great for doing buy-backs. If motivation is lacking, try joining your tween or teen in their space while they organize, have them FaceTime a friend while they clean, or start a contest for the cleanest room among siblings, says Rickey.
4. Laundry room
Remember those family baskets? This is another room in the house where they come in handy. Any abandoned clothing, including coats, hoodies, shoes, boots can be thrown into those baskets and sorted by their owners. Get kids and teens to separate gear that still fits, can be passed down, or tucked away for next year's winter. And let's not forget the dreaded mismatched sock pile. This can be a really boring task, so make a huge pile in front of the TV and let them have a go. Once the socks are matched, they can be thrown in each family member's basket to be returned to their rooms. Winner is the one who makes the most pairs!
5. Outdoor spaces
If you have a busy household, it's likely there is a lot of clutter taking up space in the garage. Following the same guidelines as the laundry room, take some time to sort through sports and recreational equipment like bikes, scooters, or skateboards they have outgrown. Once again, there is an opportunity to sell unwanted items to save up for something new. A garage sale can provide a really fun activity to organize and is a great way to do a one-day clear out that also benefits neighbours with younger kids. 
There are also several organizations that would be grateful for a hand-me-down bike or sports gear. "Researching local charities together and learning how your donations make a difference can be a really great activity to do with your tweens and teens," says Rickey. Next, get your kids to flex their muscles by doing some outdoor chores and helping with a big spring clean up in the back and front yards. Take garden furniture out of storage and wash it down. While kids have that hose in hand, wash out garbage and recycling bins. If any of your kids are environmentally-keen, get them to help spring clean your garden or set up some bird feeders.
Tip: Stay up-to-date with seasonal maintenance and yard waste pick-up with Garbage Day!
Tips to make spring cleaning fun for kids and teens
Doing big projects together as a family helps to create a sense of teamwork and belonging that tweens and teens crave. "You would be surprised how kids open up when you're working with them on something," says Rickey. Going through childhood memories can also help to bring up more feelings of connection. Keep the warm and fuzzy feeling going by acknowledging all the good teamwork. Throw a pizza party, plan a movie night or fun outing. It may be hard work, but it doesn't have to feel the way when it is a project that brings the family together.
And when it comes to spring cleaning your home, Mydoh can help keep kids and teens on track. Parents can add one-off tasks and chores in the Mydoh app and choose to assign a dollar amount for each chore completed. 
Download Mydoh and help build the foundation of financial literacy for your kids and teenagers. 
This article offers general information only and is not intended as legal, financial or other professional advice. A professional advisor should be consulted regarding your specific situation. While the information presented is believed to be factual and current, its accuracy is not guaranteed and it should not be regarded as a complete analysis of the subjects discussed. All expressions of opinion reflect the judgment of the author(s) as of the date of publication and are subject to change. No endorsement of any third parties or their advice, opinions, information, products or services is expressly given or implied by Royal Bank of Canada or its affiliates.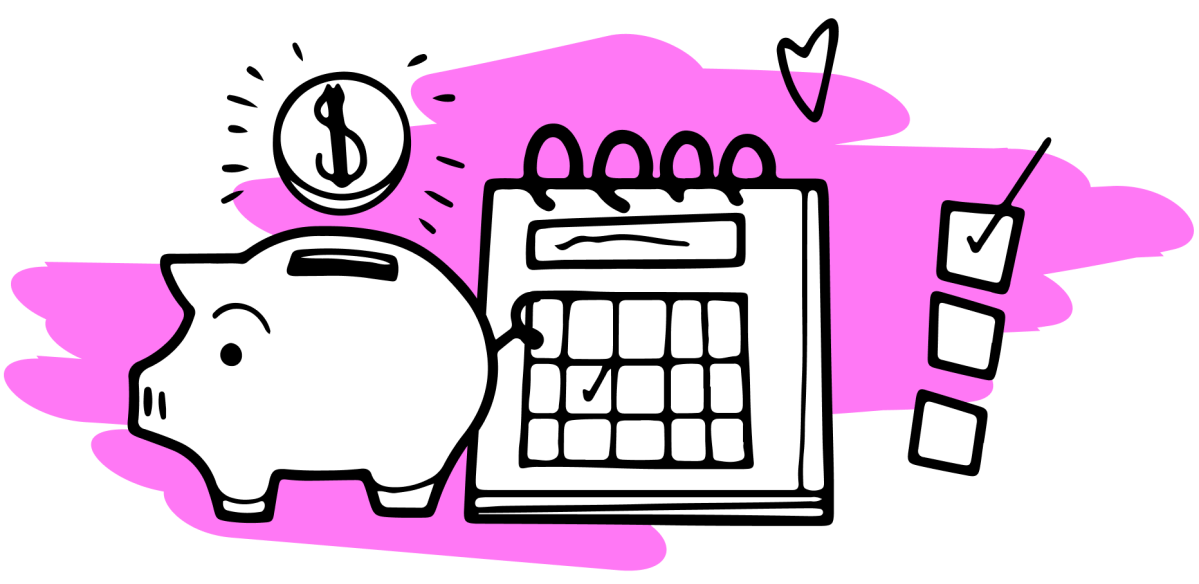 Teach Your Kids How To Earn, Spend & Save Money
with the Mydoh App & Smart Cash Card.
After the trial, Mydoh is just
$2.99 per month