The holidays are the one time of the year many of us struggle with sticking to our budget. And now that lockdown restrictions have eased, it could be even more tempting to make up for last year with extra large gifts or holiday get-togethers. 
While it may feel satisfying to see a towering pile of presents under the Christmas tree, as parents we also know starting the new year in debt soon takes away that warm glow. Which is where a holiday budget comes in––not just for adults, but for kids and teens, too.
Here are some holiday spending tips for parents, kids and teens to stay within their budget and still enjoy the holiday season without dreading the credit card bill come January. 
Why is holiday budgeting important?
If you're the type of holiday shopper who panic buys at the mall (many of us have been there!), then you probably already know the benefits of budgeting for the holidays. Creating a budget for the holidays is even more important because, without one, you could easily overspend or wipe out a month's worth of budgeting and savings.
Going into battle (or a crowded mall in December) without a plan could be disastrous. Not only does creating a holiday budget help adults, but it's a great money-management skill to model for our kids and teens. 
How much should you budget for the holidays?
The most wonderful time of the year isn't always so wonderful for our bank balance. On average, Canadians plan to spend $792 this holiday season. If yours is a two-adult household, that's close to $1,600. Of course, not every person intends, or can even afford, that amount of money.
When budgeting for the holidays, financial experts suggest spending between one and 1.5 per cent of your annual salary. Ultimately, you should choose a dollar amount you can comfortably afford. While many of us want to make the holidays a special time, it's a good idea to avoid going into debt or taking out a short-term, unsecured loan with high interest rates. As the saying goes, "it's the thought that counts." So decide on a spending limit and stick with it.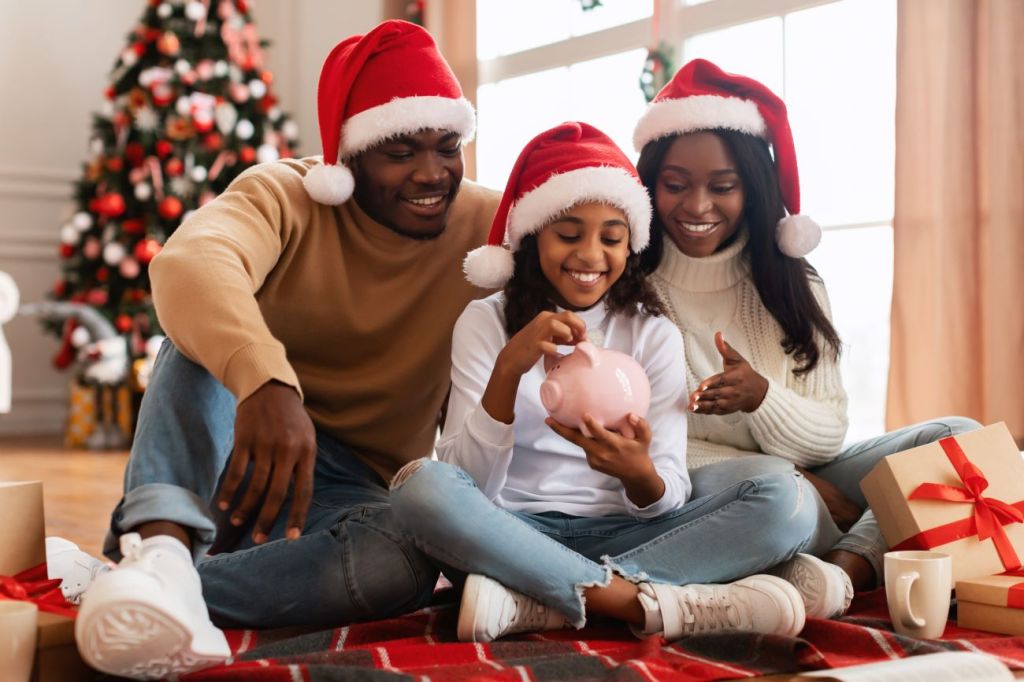 Do kids need a Christmas budget?
By the time kids have grown to be tweens and teens, they likely have a list of people they want to buy gifts for during the holidays. From matching necklaces for their BFF to the latest Steam game for their Secret Santa to yet another "World's Best Dad" mug.
But even candy grams and silly stocking stuffers for the family pet can add up, which is why the holidays are an ideal time for kids and teens to practice making and sticking to a budget. This way, they're empowered to spend their own money how they choose on Christmas gifts for loved ones.
By setting a spending limit, kids and teens get real-world practice at budgeting and deciding where their money goes. Because planning ahead to buy for everyone on your list, but still having money left over to see a movie or go skating over the winter holidays, is a great feeling!
How kids can earn extra gift money
Instead of having your kids hit you up for money to buy you your own Christmas present, talk to them ahead of time about how they can make extra money for their holiday spending. If your teen has a part-time job, they may be able to take on some extra shifts leading up to the holidays (especially if they work in retail). Kids and teens can also earn additional money by taking on extra chores or seasonal winter tasks. 
The holidays are a busy time for many families, so take advantage of a willing pair of hands to wrap gifts, babysit younger siblings, declutter the family room, or shovel the driveway. Mydoh makes it easy for parents to assign chores and kids can build up a balance to save for holiday shopping. 
Read more about allowance for kids
How kids can create a holiday budget
Creating a holiday budget doesn't have to be complicated. In fact, it can even be a fun activity you can do as a family. Here are a few holiday budgeting tips you can share with your tweens and teens:
Set a spending limit: Every budget needs a dollar amount allocated to it. Kids can check how much they have saved in cash or on their Mydoh account and how much of that they want to allocate for the holidays.
Create a gift list: Who do they want to buy for and what? Writing out a list with a dollar amount is one thing, but your kids can also get creative by creating a Pinterst board and pinning items or creating a pictorial list online using Canva.
Assign a dollar amount: Determine how much you can afford to spend on each gift or person. Not sure what a gift will cost? Encourage your kids to do some research and compare prices online first.
Total your amounts: Simply add the amount for each gift and ensure it doesn't equal an amount more than your spending limit. If your kid is planning to spend more than they budgeted, see our next point…
Adjust accordingly: If your tween or teen has brand name tastes but a no-name budget, they might need to adjust their budget (and their expectations). Is there one area of their budget they can cut down on or could they earn some extra money to boost their holiday spending?
Looking for more holiday budgeting tips for your family? Read our guide to budgeting for kids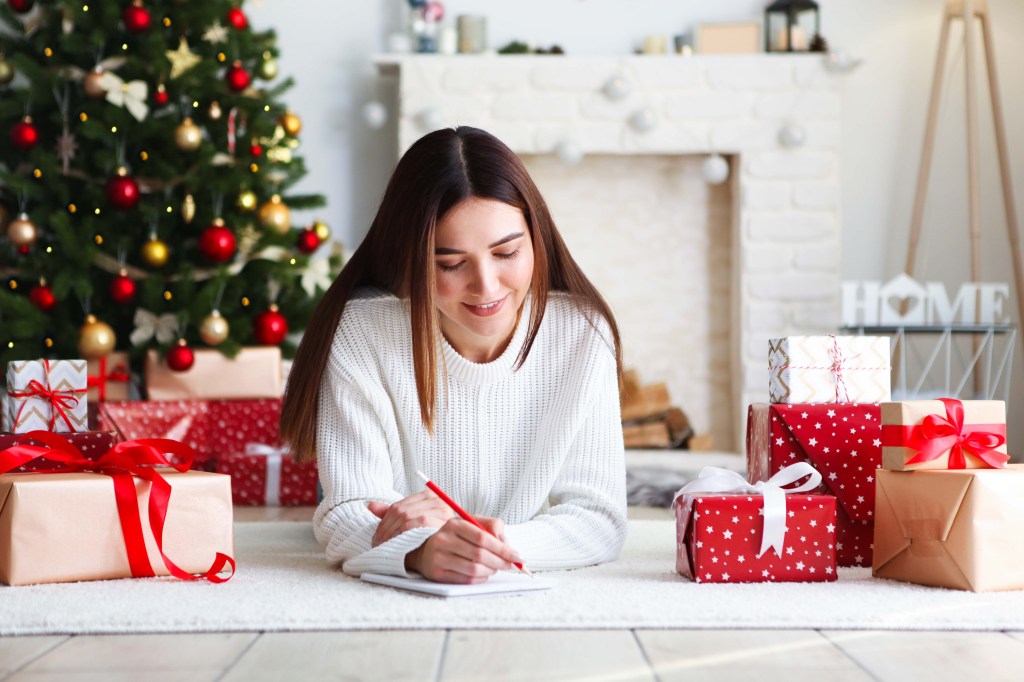 7 tips to budget for the holidays with your family
1. Take all your holiday expenses into account
As well as gifts, remember to budget for any other expenses you may have this holiday season. This could include travel plans, get-togethers or family dinners, food, decorations (including the cost of a tree), gift wrapping, stocking stuffers, or teachers' presents. To help manage expenses, consider hosting a potluck or deciding on a Secret Santa gift swap rather than buying presents for everyone in your extended family. 
2. Set your kids' expectations
While many of us want the holidays to be a magical time for our kids, nothing can blow out the holiday budget more than buying everything on their Christmas wish list. Instead, set expectations early on. Ask your kids to identify a few gifts they really want (and perhaps, ask them why!) then let them know how many gifts they might expect. Another approach some parents take is to buy their kids something they want, something they need, something they wear, and something they read. This can apply as well to teens and tweens as it does to younger kids. 
3. Shop for the best deal
Make your budget stretch further by shopping for the best deal. Maybe your kids' "must have" gift probably won't go on sale until after the holidays, but you can still price compare. Flipp and Rebee are two apps that will compare prices on recent flyers, so you can shop for the best deal, while Ampli gives you cash back when you shop at one of their major retail partners. If you're shopping online, don't forget to factor shipping costs into your budget. 
4. Give the gift of time together
Gifts aren't the only way families can celebrate the holidays. Whether you're budget conscious this year or not, focus on presence, rather than presents. One of the joys of the festive period is kids spending time as a family. Why not have each person write a certificate for a "gift" they'd like to experience over the holidays. Perhaps it's a holiday movie marathon with plenty of popcorn, decorating a gingerbread house (or creating teams and turning it into a friendly competition), playing board games about money, or a walk in the snow followed by hot chocolate. Not only can doing this help create wonderful memories, but it also teaches kids that there's more to the holidays than simply accumulating a pile of gifts. 
5. DIY the holidays
Those pretty baubles and festive wreaths can tap your budget. One way to cut down on expenses is to get crafty and DIY (Do-It-Yourself) everything from a centrepiece for the dinner table to handmade shortbread for teachers' gifts to homemade bath bombs. This is also a great activity to get the kids involved in (especially if they're creative). Encourage them to hand make gifts for people on their shopping list and bank some of their money. There's plenty of inspiration to be found online on sites like Pinterest! 
6. Volunteer
The spirit of the holiday season isn't about what you get, but about what you give. Teaching kids and teens about managing their money can include being grateful for what you already have. One way to appreciate what you've got is to give back to their community. Encourage (or even challenge your kids—and yourself) to find even one small way to volunteer this holiday. It could be donating one gift from their list to a local toy drive, volunteering to distribute gifts or food for a local charity, or as simple as shovelling the driveway of an elderly neighbour. 
7. Start saving money early
Granted, this last tip may not help you as Christmas Day looms near, but if you find the holidays often put a strain on your finances, make a resolution to set aside monthly savings for the next year. Make it a teachable moment for your tweens and teens and discuss a plan to spread the cost out the following year. Parents can also encourage their kids to save money and think about putting aside a set amount each month in a jar, envelope or piggy bank. 
Read more about teaching good money habits
How Mydoh can make budgeting easier for your kids
Holiday shopping and buying gifts for family and friends can be fun! And while you don't want to rob your kids of that joy, it's also important for parents to help guide their tweens and teens in making sound decisions about their money. The Mydoh app and Smart Cash Card allow kids and teens to shop safely and securely this holiday season and, as it's prepaid, they won't have to worry about going into the red in the New Year. 
Mydoh helps kids and teens "sleigh" their holiday spending! Learn more about how you can use Mydoh as a way to help your kids learn, earn, and save. 
This article offers general information only and is not intended as legal, financial or other professional advice. A professional advisor should be consulted regarding your specific situation. While the information presented is believed to be factual and current, its accuracy is not guaranteed and it should not be regarded as a complete analysis of the subjects discussed. All expressions of opinion reflect the judgment of the author(s) as of the date of publication and are subject to change. No endorsement of any third parties or their advice, opinions, information, products or services is expressly given or implied by Royal Bank of Canada or its affiliates.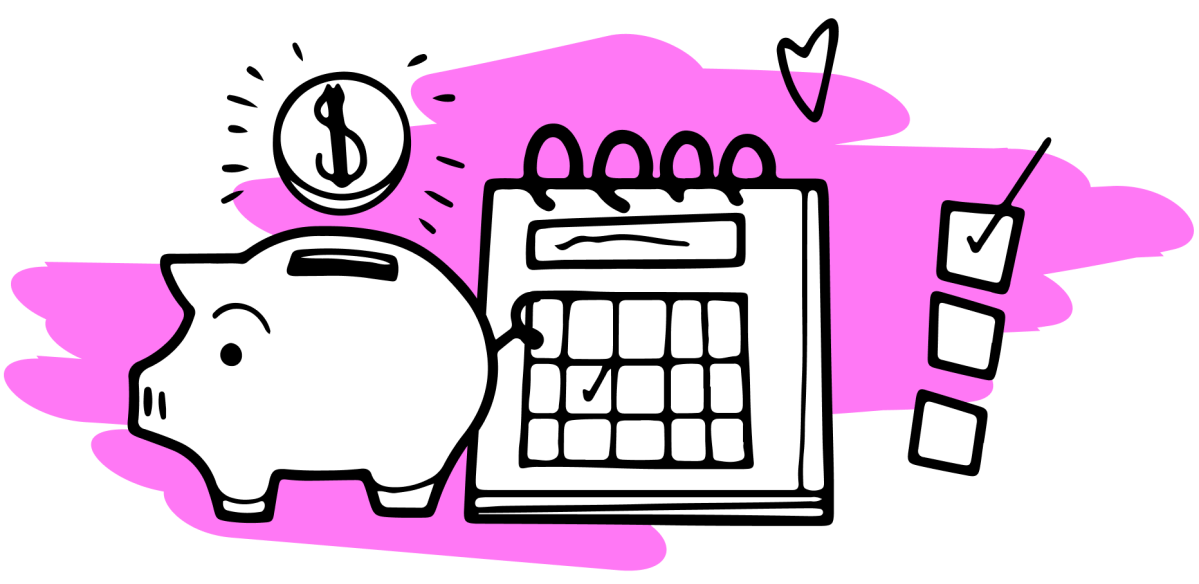 Teach Your Kids How To Earn, Spend & Save Money
with the Mydoh App & Smart Cash Card.
After the trial, Mydoh is just
$2.99 per month