Establishing a financial goal is an important part of creating mindful spending habits. But saving for the future can be a challenge! Why? Because humans have a tendency to choose immediate gratification over rewards in the future. Add to that, teens' brains are wired for immediate rewards, which is why they're more likely to choose to spend their money on a large bubble tea versus saving it to see their fav band in concert.
Learning to save is easier when you've got somewhere to put your money and those funds are protected from impulse spending. That's why at Mydoh we've introduced enhanced Savings Goals* to help kids and teens reach their goals.
Enhanced Savings Goals features
Funds are protected
Kids can't spend the money allocated to Savings Goals, which helps with making conscious decisions about how to save and spend their money.
Read more: Why kids and teens should start saving money early
General savings or set a specific goal
Kids can set aside money and save without a specific goal or create up to three separate goals, each with a different amount and an emoji to represent their goal.
Visually track your progress
Kids will be able to track their progress and have a visual representation of how much they've already saved.
Parental visibility
Parents will be able to see their kids' total savings goals balance, individual goals, and their progress towards them.
Read more: How kids and teens can gamify their savings
How Savings Goals works
Here's how kids and teens can use the Savings Goals feature in the Mydoh app: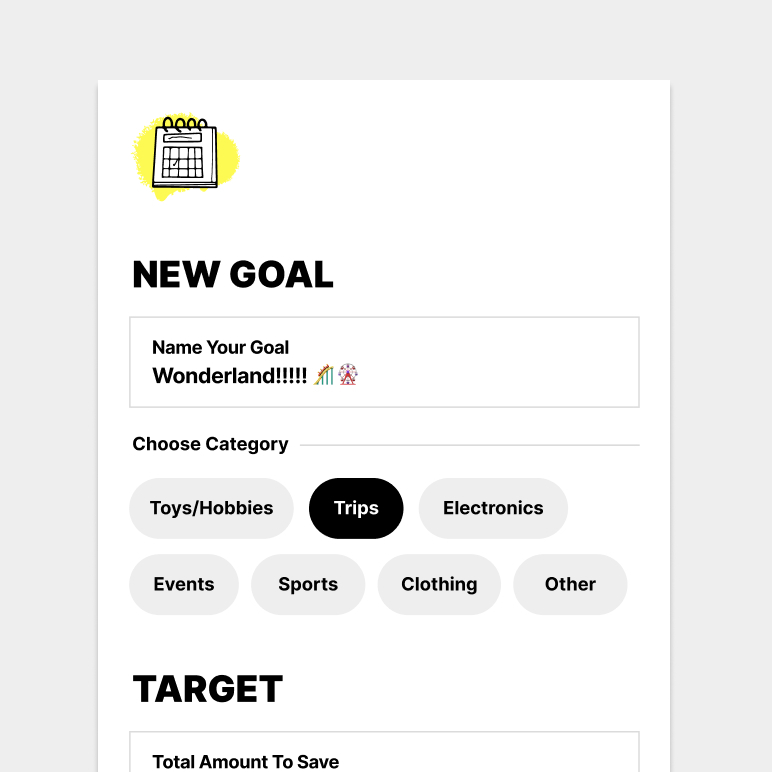 1. Set a goal
Create and name your goal, choose a category (such as sports or electronics), input the target amount you want to save, and the date you want to reach your goal.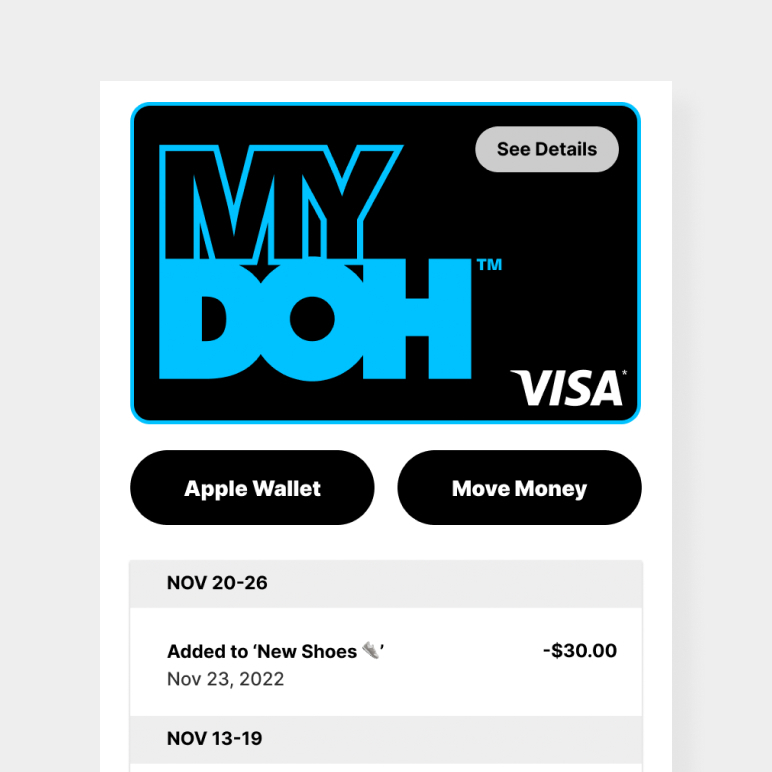 2. Add money to your savings goal
Transfer money from your spend wallet to a specific savings goal or general savings and monitor your progress. Parents can monitor kids' progress and provide encouragement along the way.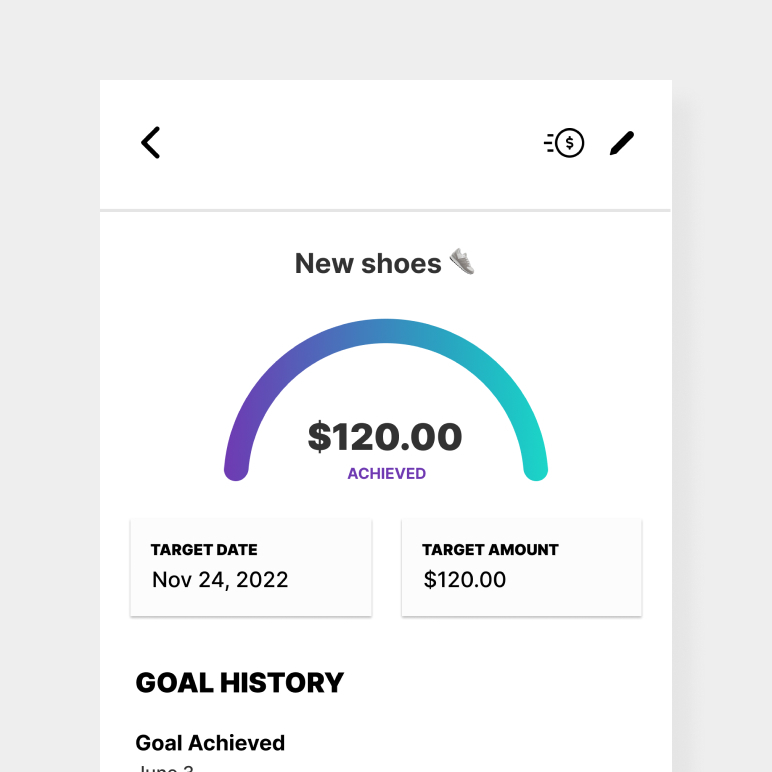 3. Reach your goal
Once you've reached your goal, transfer your money to spend and get your Smart Cash Card ready to make your purchase!
Download the Mydoh app to help build your confidence in money management and become financially independent.
*Please note: Your child's Savings Goals is not a savings account and will not receive interest or any other earnings.
This article offers general information only and is not intended as legal, financial or other professional advice. A professional advisor should be consulted regarding your specific situation. While the information presented is believed to be factual and current, its accuracy is not guaranteed and it should not be regarded as a complete analysis of the subjects discussed. All expressions of opinion reflect the judgment of the author(s) as of the date of publication and are subject to change. No endorsement of any third parties or their advice, opinions, information, products or services is expressly given or implied by Royal Bank of Canada or its affiliates.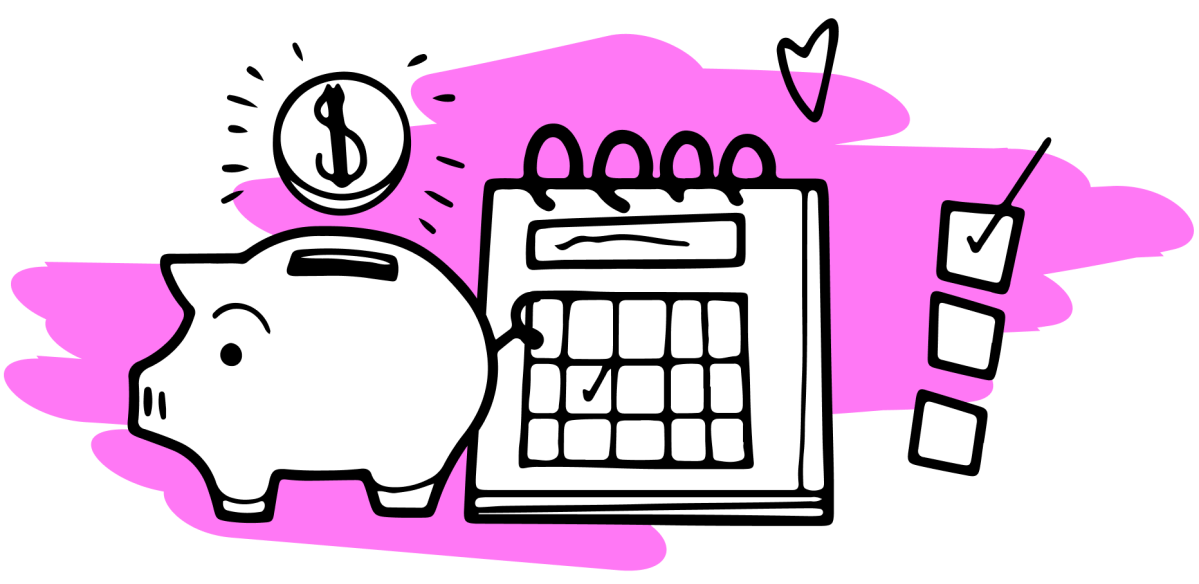 Teach Your Kids How To Earn, Spend & Save Money
with the Mydoh App & Smart Cash Card.
After the trial, Mydoh is just
$2.99 per month