Allowance is just as much of a rite of passage for the parents dishing it out as it is for the kid receiving it. Not only does it mean that children will taste the freedom that comes with spending their own money, but giving an allowance is also a great way to teach hands-on financial literacy, life skills, responsibility, and money management. It's a pretty big milestone. 
How much you give and whether you give a weekly allowance or a monthly allowance will vary from family to family, by budget, and by age. Allowance and chores often go hand in hand and may hit the sweet spot for tweens and teens as a way to make money. Just like a job, the more hours they put in, the greater the earnings.
To help you decide what's right for your family, let's deep-dive into the different types of allowances, why kids should have an allowance, easy ways to manage them, and the pros and cons.
New to Mydoh? Mydoh is a digital wallet and Smart Cash Card for kids and teens. Kids can use it to earn money through tasks and make purchases in-store or online. Parents can monitor spending and activities. Mydoh teaches kids responsible money management and smart financial decisions. Download Mydoh and start your free trial.
What is a kid allowance?
In the simplest of terms, allowances are payouts to a child based on either a set amount with no strings attached or on doing chores suited to their age. Sometimes an allowance is built on a hybrid system (we'll cover that more in a minute), but at its core, it's a practical way for children to grasp spending, saving, earning and budgeting.
Who invented allowances?
There's no clear history on when allowances began. The idea of giving children a weekly or monthly allowance was popularized in parenting expert and writer Sidonie Matsner Gruenberg's 1912 book Your Child: Today and Tomorrow, in which she touted the notion of an allowance as a way to help kids understand how to spend money.
The 3 allowance types for kids and teenagers
It's important to understand the difference between allowance formats before choosing which one will work for your family. Here are the three main allowance types:
1. Pure allowance
Straight up, with no conditions, this option is pure and simple money that you give to your child at a regular frequency. Generally, your child takes part in the household chores and responsibilities, but payment isn't attached to the tasks. 
Pure allowance is:
Easy to manage and hand out, since the amount stays the same
Simple because there's no need to oversee chores, responsibilities, or extra "rates" for completing more tasks
2. Allowance and chores
A chore-based allowance is the most job-like. A child performs tasks and earns their money when they're done. These may be daily chores or weekly chores and can include making the bed, walking the dog, vacuuming, and helping with meal prep. Chore-based allowances can also take on a choose-your-own-adventure format, where kids might complete additional jobs for a set price. 
Chore-based allowances are:
A great way to segue into learning about responsibility and working for what you want
An easy way for kids to learn the value of a dollar and the work that goes into earning it
A fun challenge, especially when there are additional chores to complete for extra money
Learn more about building a chore-based allowance by reading our allowance guide for parents. 
3. Hybrid allowance
Think of a hybrid allowance as the best of both worlds: Your child receives a base rate each week that isn't tethered to any chore or expectation, but they have the potential to up the earnings with extra jobs. Under a corporate lens, a hybrid allowance looks like a base rate with the opportunity to make a commission.
Hybrid allowances are:
Good for challenging kids to set goals and go above and beyond expectations
A great way to remove some of the performance-based pressure associated with chore-based allowances
The perfect opportunity to create a flexible workload, especially important if your child has a packed academic or extracurricular schedule
Still not sure which allowance type is best for your family? Read more about the best allowance method for kids and teenagers.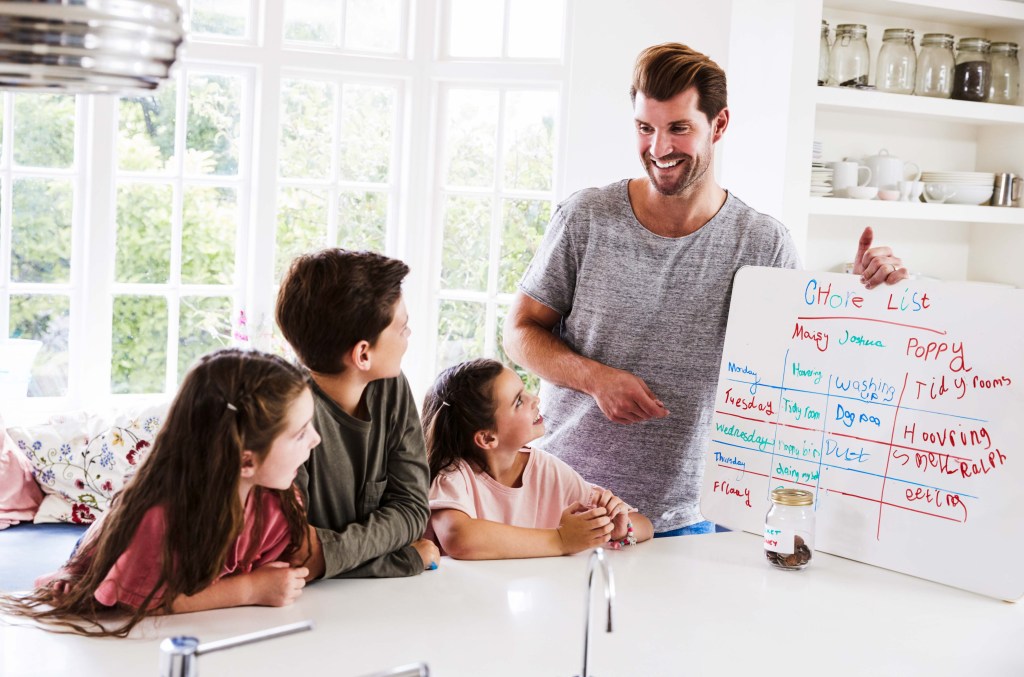 Tip: Use one of our free printable chore charts to help your kids keep track of upcoming tasks.
The pros and cons of giving an allowance
Why kids should have an allowance and whether they should get one is up to your family values and kid's disposition. Here are some pros and cons to consider when deciding on an allowance strategy:
Pros of an allowance for kids
It teaches responsibility, including how to complete a job well and how to manage money.
Allowance opens up the conversation for financial literacy, bank accounts, savings, and even tax. Some parents put aside a small percentage of their child's allowance for things like charitable giving or savings. 
It prepares kids for the workforce with knowledge of working for pay and an understanding of their worth.
Getting an allowance encourages good money habits and budgeting. A kid won't know how to spend money if they don't have money. Allowances are great for small treats, savings goals, and understanding the consequences of impulse buys. 
Cons of an allowance for kids
A pure allowance has the potential to create a sense of entitlement. If your child isn't earning for work completed, they may come to expect money for nothing.
Giving allowance for chores means money could become a motivator for kids. This drive isn't all bad, but money isn't everything, and it's not the only reason they should help someone or complete a task.
It can create pushback. A strings-attached mentality can arise from chores if your child sees a price tag attached to everything they do. Part of being in a family is pitching in, so an allowance may blur those lines.
Not sure how much allowance to give your kids? Use our allowance calculator.
Mydoh Smart Cash Card helps kids spend and save their allowance
Once you're ready to start, a chores and allowance app will come in handy. Mydoh is a secure and family-friendly app that operates on the chore-based allowance system. With no need to fumble for change, parents can log in to their account to load funds, add tasks, track chores, and make payouts every Saturday on Pay Day (another great way to teach budgeting). 
Kids and teens can access their own special login to manage their tasks, see their payouts, and use their digital Smart Cash Card on real-world purchases in-store or online, wherever Visa is accepted.
Download Mydoh to help your kids earn, learn and spend with guidance and oversight.
This article offers general information only and is not intended as legal, financial or other professional advice. A professional advisor should be consulted regarding your specific situation. While the information presented is believed to be factual and current, its accuracy is not guaranteed and it should not be regarded as a complete analysis of the subjects discussed. All expressions of opinion reflect the judgment of the author(s) as of the date of publication and are subject to change. No endorsement of any third parties or their advice, opinions, information, products or services is expressly given or implied by Royal Bank of Canada or its affiliates.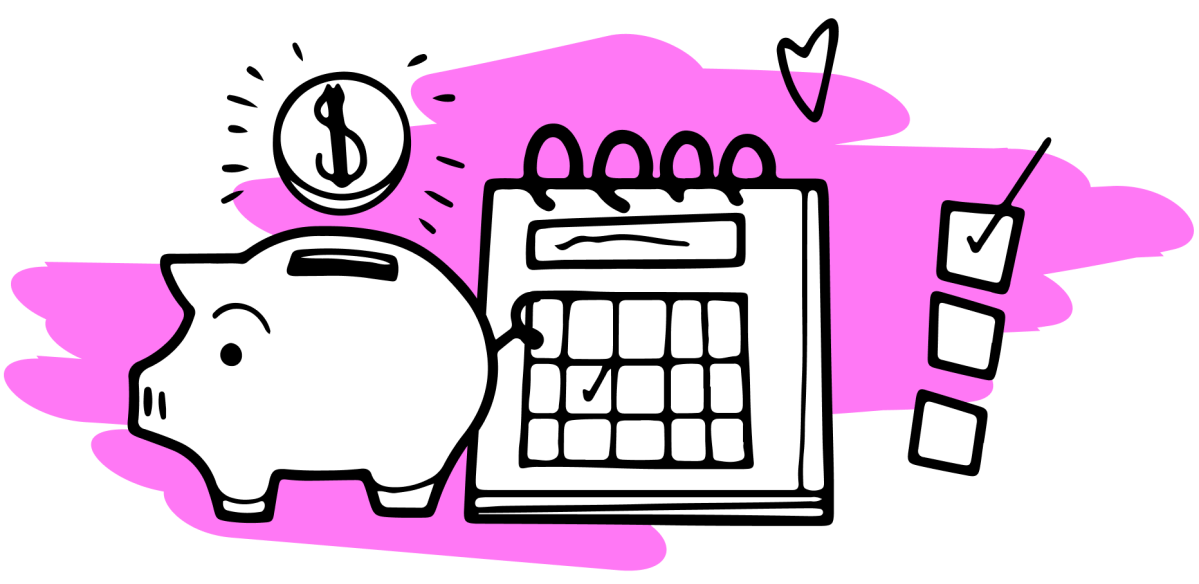 Teach Your Kids How To Earn, Spend & Save Money
with the Mydoh App & Smart Cash Card.
After the trial, Mydoh is just
$2.99 per month