A big part of learning how to manage money is making your own in the first place. With their sense of curiosity and willingness to take risks, kids are natural entrepreneurs. When you combine their innate mastery of digital tools and apps, there's no shortage of opportunities for kids to start up their own ecommerce business. Here are some ideas on how kids can make money online and some helpful tips to get them started!
Youth entrepreneurship trends we'll see in 2023
As adults, the COVID-19 (coronavirus) pandemic has fundamentally disrupted our working lives and businesses have had to pivot to adapt. Kids too have had their own challenges with online learning, returning to school during COVID-19, and finding ways to connect with friends. As a result of these changes, businesses have had to evolve. Reliance on technology has led to a growth in e-commerce and social media-driven businesses. Teenagers and tweens are masters of social media sites like TikTok, Instagram and Snapchat, and they're able to use them to become paid social media influencers. You may not know who Charli D'Amelio is, but chances are your tween does! So do 108 million other TikTok followers. Another trend we're seeing in 2023 is supporting local businesses, especially those that are environmentally-friendly, or are purpose driven. All of this is great news for kids looking to start up their own business or make money online.
3 life skills your kids can learn from making money online
Starting an online business isn't only great for your kids being able to contribute to their education fund or save up for that new gaming console, but they'll also learn some pretty cool life lessons along the way.
1. Business 101
On the most practical level, the best way to learn how a business operates is by running your own. No matter if your child decides to sell homemade jewellery online, or make slime on their own YouTube channel, they'll have the opportunity to learn about what it costs to run a business and how profit margins work. It'll also give them the opportunity to think about how they want to brand themselves, analyze the marketplace, and how to finance their startup costs.
2. Forge their own career path
The traditional career path has gone the way of MySpace, and today more and more small businesses are popping up in Canada. Kids who run their own business online learn that a job opportunity is what you make it. They're more likely to be confident in taking risks, or try different careers without worrying about settling on one job for their adult life. After all, who says you can't create makeup YouTube tutorials and help solve the global water crisis?
3. Develop communication skills
The average kid is already a pretty good sales person. Any parent who has argued back-and-forth about a later bedtime would agree. But when kids run their own business, it takes those negotiation skills to another level. Now they're in the real world learning to deal with customers, how to communicate effectively, and even how to negotiate on price.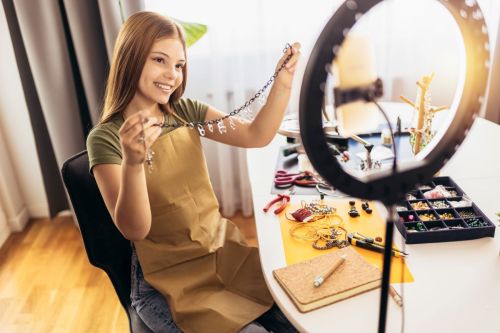 7 business ideas for kids to make money online
Here are seven online business ideas your kids can try themselves. However, we do suggest that your budding entrepreneur bounce any business ideas they have off you first. That way, you can help guide them if their idea doesn't sound feasible or needs your support to get it off the ground.
1. Sell crafts or jewellery online
If your kid is naturally crafty, then making jewellery or crafts and selling them online is a great small business idea. An Etsy site is a popular way to sell your wares. Zandra Cunningham did just this when she created her own lip balm at nine-years-old. Fast forward a few years and she's now a TEDx speaker, author, and philanthropist—as well as owning her own beauty brand! And Maya Beaudry was also nine when she started Kokom Scrunchies. Parents should also be aware of the sign up rules for sites like Etsy. Kids need to be at least 13-years-old and have the permission of a parent.
Read more about Maya and Kokom Scrunchies in our article on trailblazing teens! 
2. Make YouTube videos
Kids are pretty tech savvy and now most laptops come with a built-in camera so it doesn't take much investment to set themselves up as a YouTube creator. There are a lot of kids out there doing it. Ryan's World has an impressive 28.6 million subscribers and started when the 9-year-old began unboxing and reviewing toys on YouTube. Kids can create videos based on any subject they're passionate about, whether it be a makeup tutorial, or building worlds in Minecraft, like Canadian YouTuber GamerGirl. Kids and teens can make money through ads or sponsorship. Parents should also be involved in setting up a YouTube channel to help protect their privacy and manage expectations.
Read more: How to make money on YouTube as a kid.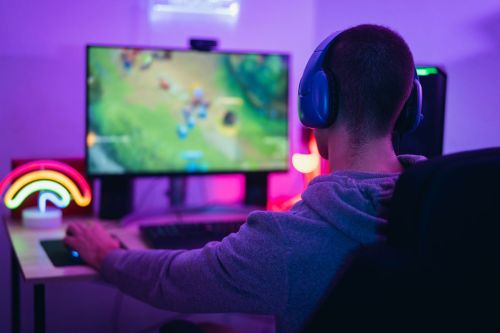 3. Streaming
Similar to being a content creator, if your kid loves playing video games online or watching streamlined live content on sites like Twitch, they should consider creating their own. Twitch was designed to bring gamers and content creators together through live-streaming games. The platform can be monetized to make money through donations from Twitch users, brand partnerships, or subscriptions. Canadian Twitch user, Shroud (Mike Grzesiek), first started playing Counter-Strike: Global Offensive and is now one of the world's most watched (and lucrative) streamers.
Read more: How kids can make money playing video games. 
4. Sell vintage
The days of feeling embarrassed about wearing hand-me-downs are gone. Vintage clothing is back and thrifting is in. If your kid has a passion for all things fashion and can spot a retro pair of Adidas trainers or '80s Levis, they could make money selling vintage clothing online. Sites like thredUP and Depop make finding their customers easier.
5. Photography
Budding photographers with a decent smartphone and access to editing software can make a little money selling their images as stock photography. While they may not quite be ready to license original images to Shutterstock, kids should check out sites EyeEm, 123rf, or Foap to make money from their talents.
6. Sell digital products
If your kid or teen loves writing, they could design and sell an e-book or publish their own books. Storyjumper lets kids create and publish their own books, as well as read books written by other children. While those with a great eye for design could also create and sell original artwork or posters on sites like Etsy. There are plenty of free or cheap illustrator tools to help, such as Photoshop or Canva. Toronto-based Leeloo started drawing pictures like cool Raptors logos when she was just 7-years-old and sold them on t-shirts. Leeloodles designs are sold online and through the Drake General Store.
7. Sell old toys online
Does your child have a collection of Thomas the Tank Engine trains you spent hundreds of dollars on, or an IKEA bin filled with My Little Ponies sitting in the basement? Your kids can turn their old toys, books, even clothes into cash by selling them online on sites like Kijiji or Facebook Marketplace. Parents will probably want to be involved in the process. This could mean posting it on social media on behalf of your child (Facebook requires you to be 13-years-old to have an account) and helping to facilitate the sale safely. But kids can still take photos, write up the ad, decide how much they want to sell it for, and negotiate the price.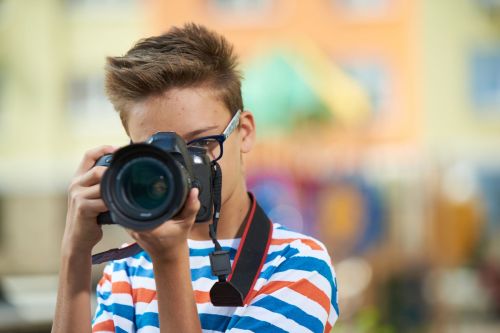 How to help your kids develop their business ideas
Okay, so your kid has a big idea to start their own business online, but they aren't sure where to start. Here are some tips for parents to help mentor today's kids so they might be tomorrow's Jeff Bezos.
Encourage your kids to take their business ideas seriously and explore their feasibility.
Get you kids to brainstorm any and all ideas they might have and how it would look. Tools like MindMeister make that easier (but pen and paper works just as well too!).
Introduce them to friends and family who have their own online business and ask if they'll help mentor your child.
Research the market. This could be as simple as your child deciding to design and sell earrings online then asking their friends what sort of jewellery they'd love to wear, or what are some cool designs they wish were available in a store.
Have your kids set a budget for any material costs and then project how much money or profit they'll make as a way of assessing the feasibility of their idea and setting prices.
Check out organizations like The Lemonade Project that are designed to foster an entrepreneurial mindset in kids and give them the tools to set a goal and make a plan.
Keep them motivated along the way by listening to stories of real life entrepreneurs and success stories (and earlier failures!). There's plenty of inspiration to be found through TED Talks or podcasts like We Regret to Inform You.
Get inspired and read Kid Entrepreneur: Meet Sweet August. 
How your kids can create a budget to start making money online
Unless you're prepared to fund the cost of their latest business venture, it's also important for your child to learn to set a budget as part of running their own online business. This doesn't have to be as complicated as it sounds. It can be as simple as encouraging your kids to sit down with a handmade table and create three categories: how much their materials cost, how much they can sell their goods or services for, and how much profit they'll make. This can help them set their prices, so they're not operating at a loss. Factor in one-off expenses such as setting up a website or purchasing software like Photoshop.
Okay, but what if your kid doesn't have the capital to start? Earning money by doing chores is a tried and true method of learning about the value of money. Mydoh is a money management app for parents and kids. Your kids get a Smart Cash Card and you can track their earning and spending history. It's designed so parents can set weekly or one-off tasks and Mydoh takes care of the rest – automatically transferring money from your account into your child's Mydoh account. This is a great way for your child to put in a little sweat equity as part of getting their business venture off the ground.
Future entrepreneurs not only need to know how to earn money, but how to spend it wisely too. Mydoh is designed to give kids some real-world experience of making their own money, as well as saving it or spending it on what their heart's desire. Parents can create daily tasks for their kids to tick off and set up allowances to their kids' Mydoh Smart Cash Card.
Download the Mydoh money management app and Smart Card for kids.
This article offers general information only and is not intended as legal, financial or other professional advice. A professional advisor should be consulted regarding your specific situation. While the information presented is believed to be factual and current, its accuracy is not guaranteed and it should not be regarded as a complete analysis of the subjects discussed. All expressions of opinion reflect the judgment of the author(s) as of the date of publication and are subject to change. No endorsement of any third parties or their advice, opinions, information, products or services is expressly given or implied by Royal Bank of Canada or its affiliates.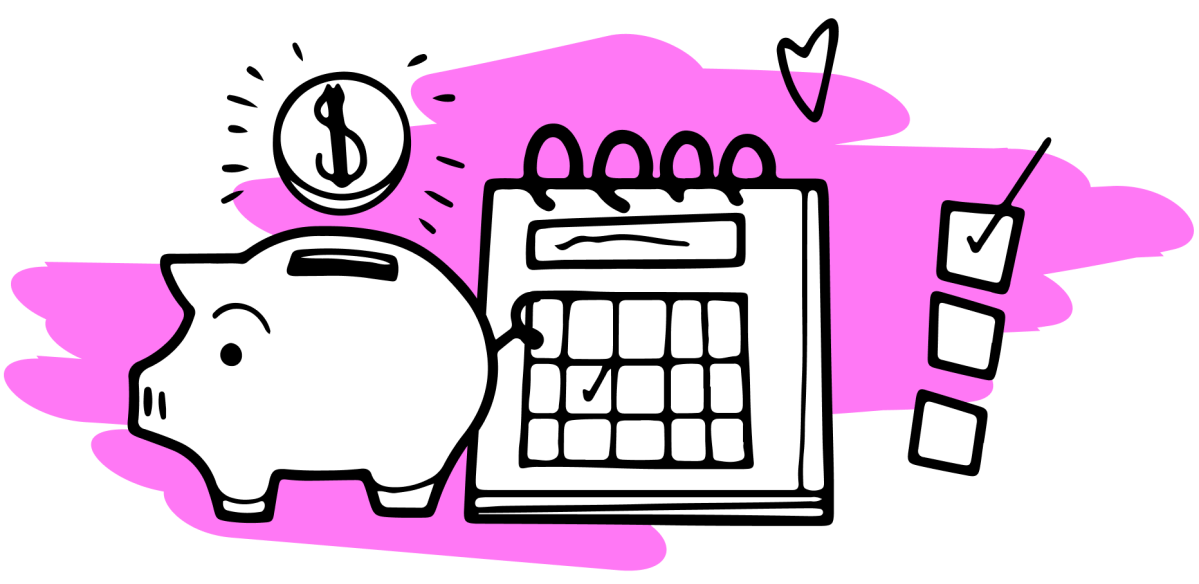 Teach Your Kids How To Earn, Spend & Save Money
with the Mydoh App & Smart Cash Card.
After the trial, Mydoh is just
$2.99 per month