Like a lot of kids his age, 11-year-old Mason Anderson, who lives in Ontario, does household chores like dishwashing for a weekly allowance. Right now, he's dedicated to saving up for a Super Mario Bros. U Deluxe game for his Nintendo Switch. "We found that when we were going out to stores, he wanted us to buy him toys," says Carlene Anderson, Mason's mom. "[We felt] he needed to know that you need to work to get money to buy the things you want."
It's a lesson many kids learn by getting an allowance. But for Mason, who has cerebral palsy, getting paid for doing chores has a number of benefits besides allowing him to buy video games.
Should children do household chores?
Research suggests that helping out around the house can have real benefits for kids and teens. According to the Journal of Developmental & Behavioral Pediatrics, doing chores early in elementary school is associated with self-competence, positive social behaviour, and self-efficacy. The journal also lists positive outcomes such as learning time-management skills, developing organizational skills, accepting responsibility in the family, learning to function independently, learning to balance work and play, and more.
While doing chores has positive effects on nondisabled kids, it may benefit the development of children with disabilities even more.
The advantages of chores for children with disabilities
If you were to ask Yvonne Spicer, an early-childhood educator based in Ontario who has experience working with children and teens with developmental disabilities, she'd agree with that sentiment wholeheartedly. Spicer describes herself as having learning difficulties that include ADD, ADHD, being on the autism spectrum, and several other neurodiverse qualities. She also has experience working with children with disabilities.
"When children with disabilities do household chores, it gives them a sense of independence," explains Spicer. "It gives them the opportunity to learn a skill that they can take with them no matter what independence looks like for them as adults, whether they eventually live in a group-home setting or on their own. Chores can give kids the skills to take care of their own needs no matter where they go."
Chores can also give children with disabilities a chance to actively contribute to the family when they may not often have the chance to help out.
There can be physical advantages, too. Mason's mom has found that when he helps out with household chores, it also helps him therapeutically. Doing the dishes has sensory benefits for him as well as strengthening and balance-training qualities that often mirror the physiotherapy he's already doing.
"Doing the dishes is an excellent option because our counter is at the perfect height for Mason to lean against to give his ankles a good stretch," she says. "And he loves playing in the hot water, so he's good at it. Mason is an excellent dishwasher."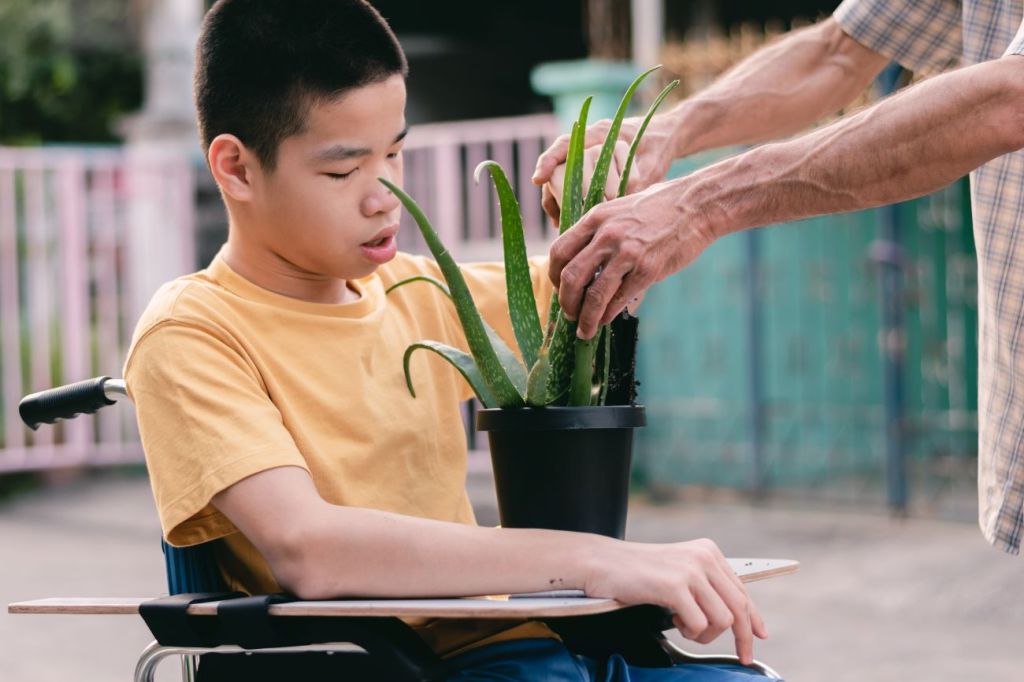 4 tips for introducing chores to children with disabilities
Sometimes, special consideration should be taken when adding chores to the daily or weekly routine of children with disabilities. Here are some ways to help get you started:
1. Take your time
Some parents of children with disabilities may forgo assigning household chores altogether because they're unsure of their child's capacity to take them on. But Spicer says avoidance is not the answer and that parents need to exercise patience instead.
"Take your time, and don't push chores on your child," advises Spicer. "Try to introduce them one at a time because children with learning difficulties sometimes struggle with change."
2. Break down the steps
To help kids adjust to what may be a change in their daily routine, Spicer suggests creating a visual schedule that features words or picture communication symbols. These are used to lay out the exact order of a child's day, including the steps of the chores they're supposed to do and the time of day they should be completed. This way, your child knows exactly what is expected of them.
Remember that it will take some time for a kid to get used to the routine of a chore. "The child may not get everything right all at once," says Spicer. "Take the time to help them so they begin to understand and actually get the routine under their belt."
3. Be consistent and heap on the praise
Know that if you change up the routine for whatever reason, chances are your child could regress in their progress and react negatively. "Be sure that the child has the original task you showed them down pat before introducing a change—even a small one," says Spicer.
But have faith that if you have to switch things up, all you'll need is a little more guidance and patience to help your child adapt to the new routine in time.
If there are slip-ups or days when things aren't going as smoothly as you'd like, try to stay positive for both your sake and that of your child.
"Nagging kids or teens with disabilities to do their chores isn't going to work," Spicer says. "More than likely, they'll shut down and have behavioural problems like a temper tantrum."
Instead of focusing on the negative, Spicer recommends praising your child for what they are doing. Acknowledge that they're trying, even if they're getting frustrated or have only managed to partially complete the chore.
4. Find out what motivates them
In a lot of ways, convincing kids with disabilities to do chores is the same as getting any kid to help out around the house—disability or not.
Carlene Anderson says it comes down to one simple maxim: "Find out what motivates them and what they want to work towards."
For example, she says, "help them understand that they can do a job to get money. A lot of times, we just give and give, so they don't have that concept that they can work. Just because they have a physical disability doesn't mean they can't do something." 
Read more: Tips for teaching autistic kids money skills.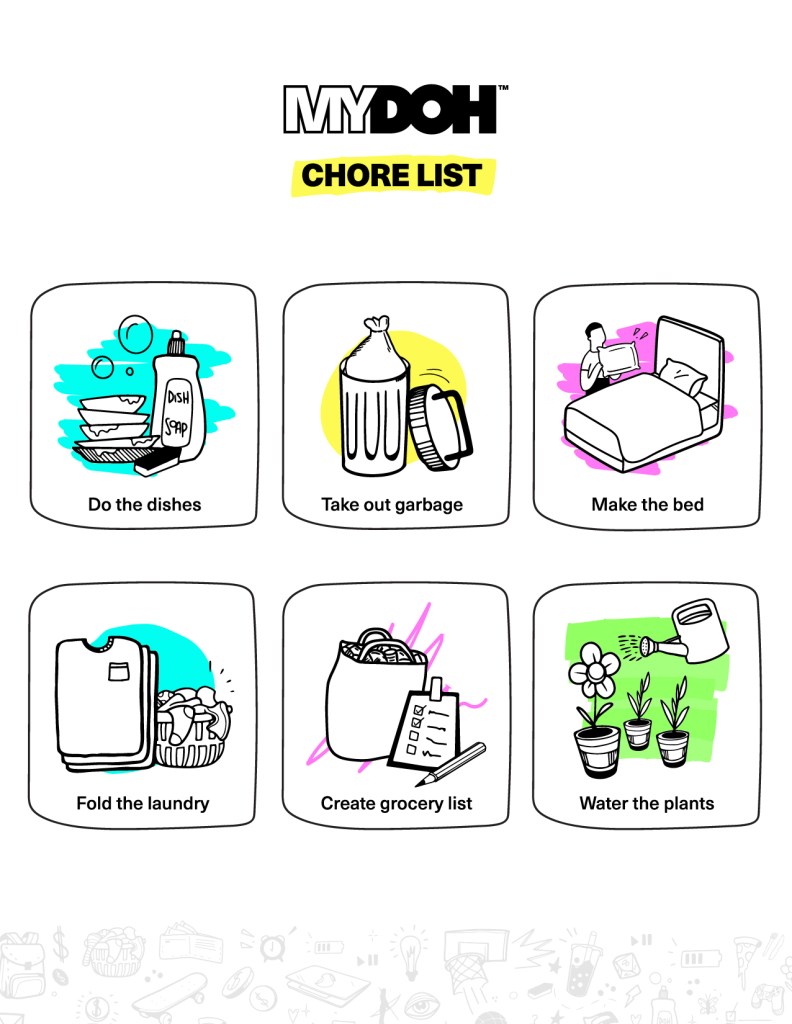 Tip: Download a copy of our visual chore chart!
3 chore suggestions for kids with physical disabilities
Here's a list of chores that could be suitable for kids with physical disabilities. Of course, not all disabilities are equal, so the following should only be used as guidance. You know your kid best.
1. Doing the dishes
Doing the dishes can be a great chore for those who have physical disabilities but are ambulatory. Counters provide something for them to lean against so they have both hands free to do the actual washing.
If bending down to the dishwasher or holding plates while standing is difficult, kids can do the dishes with assistance or while seated. This also makes it a great option for children or teens with manual wheelchairs, whether they have an adapted kitchen with a roll-under sink or work at a kitchen table with a bucket of soapy water and a sponge.
2. Taking out the recycling or garbage
Mason doesn't just do chores at home; he also helps out at school. His job is to collect the recycling from his classroom by putting a mini blue bin on his lap while he pushes his wheelchair to a larger receptacle. Kids who use manual or electric chairs or mobility scooters can place the bin on their lap, platforms or foot plates or secure it to their chair with ties or bungee cords.
3. Assisting extended family outside the home
Before Mason started doing the dishes at home, he helped pick up trash at his grandfather's business. His mom would support him from behind by supporting his hands and letting him lean against her while he walked around picking up garbage with a stick. Even if your child or teen is too young to work an official job, they can always help out in the homes or businesses of their extended family. This kind of chore can help kids get used to the idea of working outside the home.
3 chore suggestions for kids with developmental disabilities
What about children with developmental disabilities? There are different considerations when assigning chores to them versus children with physical disabilities, like how to break down the task and make it part of their routine. Here are a few suggestions:
1. Making the bed
This is a household chore that can be broken down into simple steps, which keeps the task from becoming too overwhelming. Spicer says parents and caregivers can help a child make the bed with a hand-over-hand technique. This means gently placing your hands over your child's hands while completing the chore together a few times until they get the hang of it.
2. Folding laundry
This task is made up of simple steps that rarely change, which makes it easier to digest as a routine. For extra points, teach your child where the folded laundry goes and have them put it away as well.
3. Creating grocery lists
Put your child in charge of monitoring the family's stock of favourite snacks and cereals. Ask them to check around the house for specific items. They can add anything that needs replacing to a grocery list kept in an accessible central location.
Remember: It's a marathon, not a sprint
Doing household chores can help empower kids with disabilities to be more self-sufficient. But it can take time for the new routines to stick. Try to remember to have patience and meet your child where they're at in their journey toward greater independence.
Using an app to track chores and allowance can be a fun incentive for many kids. The Mydoh app lets you assign tasks to your child and send them money when those chores are done. You can also monitor their spending and saving, encouraging them along the way.