If there's one thing parents of teens would agree on, it's that their teenagers would like us to believe they know more than we do. When it comes to TikTok, that's probably the case. But when it comes to money, we know there's still a lot for our kids to learn. The teen years are when many kids get a taste of financial independence and go from a weekly allowance to a part-time job. Here's how Mydoh can help parents teach their kids financial literacy, as well as how to spend and earn their own money.
Start the money conversation with teens early
Raise the topic of financial literacy with your teen, and it's likely to be met with an 🙄. But, helping teens establish strong money skills early in life through experience pays dividends. Research backs this up. According to the University of Arizona, practice does, in fact, make perfect. Hands-on experience with money prepares kids for financial success. This isn't to say teens can't—or won't—make money mistakes. In fact, making small money mistakes at a younger age could prevent a huge financial disaster down the road.
How parents and teens can use Mydoh
One way teens can practice money skills is by using Mydoh. Mydoh is a Smart Cash Card for kids that comes with a money management app. It's designed to help teens learn and practice money skills safely and securely. Because there's nothing like hands-on experience to learn the value of a dollar. Here's a bit more about how they work.
1. Spend
If you asked your teen what they think it means to be financially responsible, they probably say, "making money." And earning your own buck is important (we'll get to that shortly!), it's just as important to learn how to manage your spending. This is especially true given how easy it is to access credit. According to Equifax Canada, the average Canadian owes over $73,000. One of the ways Mydoh can help teens practice safe spending is with their own Smart Cash Card.
For teens: They'll receive their own Smart Cash Card, a reloadable Visa Prepaid Card. It can be used online or in-store via Apple Pay or anywhere that Visa is accepted to buy what they like, when they like. This means no more remembering to carry cash or hijacking your credit card to order the latest makeup or the newest game release on Steam. Kids and teens can also now order Mydoh by Me, a customizable Smart Cash Card that allows them to express their personality!
For parents: You'll be able to view what your teen is spending their money on, and how much. The Mydoh app even lets you react to their spending with encouraging emojis. There's also the peace of mind that comes with knowing they can't spend more money than they have. No worrying about your kids digging themselves into a hole of consumer debt! But if your teen does need a top-up of cash, Mydoh has an instant transfer function and funds will be transferred immediately. Plus, you can lock and unlock their kids' Smart Cash Card, right from the app at any time if need be.
2. Earn
Having your own money in your back pocket feels good. And when you know you've earned that money yourself, it feels even better. If your teen is too young to start working at a part-time job in the summer or on weekends, they can still earn money to spend with the Mydoh app. Mydoh Tasks lets parents add one-off tasks or schedule weekly chores. And adding new tasks in the parent's Mydoh account is easy!
1. Go to the Earn screen in the app and tap on "Add a Task."
2. Choose a task category or customize your own.
3. Fill in the title (such as dusting) and any additional details (like "Be careful not to break anything"), then mark it as a one-off or recurring task.
4. Set the completion date for a one-time task, or if it's a recurring task, set the days of the week the task needs to happen.
5. Enter an amount that you would like to pay your child, and tap Create Task!
As tasks are completed, your teen can check chores off in their Mydoh account as "done." Your teen will only be paid out each Saturday (or as we like to call it: Pay Day) if all tasks are completed. That way, there's no skirting around doing half of what needs to be done.
For teens: Whoever came up with that phrase "death and taxes" forgot to include laundry. Learning to wash and fold their own laundry and prepare a simple meal are skills that will carry your teen through college and into adulthood. Your teen will also experience the satisfaction that comes from getting paid for the work they've done. It's a little thing called taking pride in what you do.
For parents: Tasks help your teens understand the value of earning money, and you get a dishwasher that seems to load and unload itself. As well as some practice in adulting, having chores leads to higher self-esteem and long-term success in school and life.
3. Save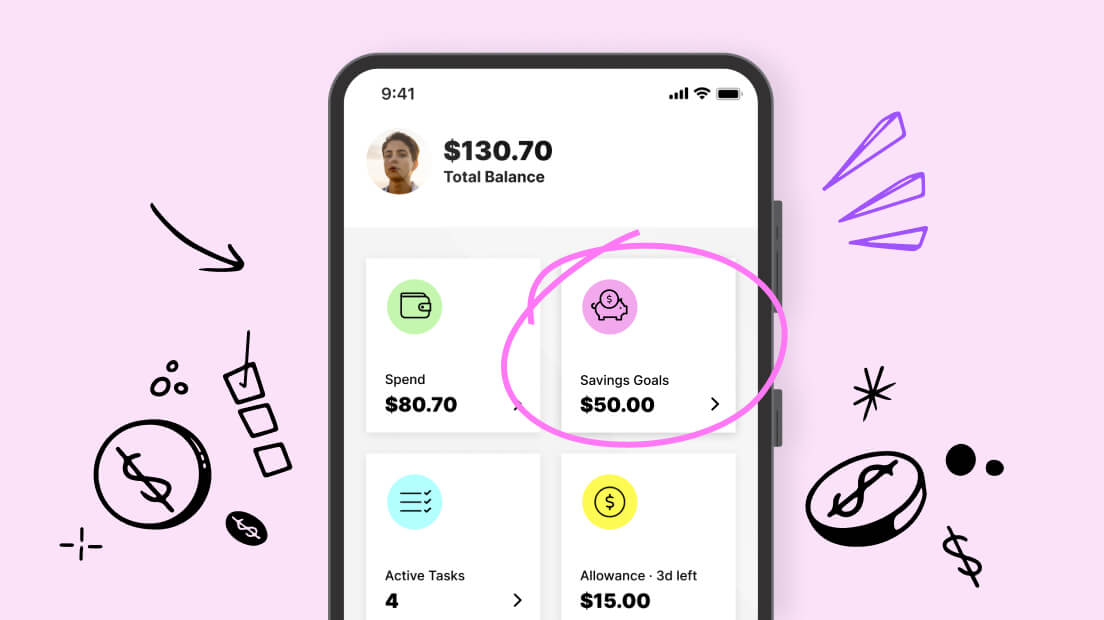 Establishing a financial goal is an important part of creating mindful spending habits. But saving for the future can be a challenge – especially for kids and teens. That's why we created a savings goal feature in the Mydoh app.
For teens: Saving for a concert ticket or a new gaming console? Savings Goal makes it easy for teens to save for up to three item. They can save with a target date and amount in the 'Goals' bucket, for things they have their eye on. They can also save for the future, with no target amount or date in the 'General Savings' bucket.
For parents: Savings goals can help kids with impulse spending and help them practice delayed gratification. Kids can easily tell if their goals have not been completed, and how much money and time are left to complete them. Once they've achieved their goal, you can celebrate their accomplishment with them!
Mydoh helps parents give their teens real-world financial experience
We all want the best for our kids. To watch them grow up and succeed in the world. As your teens become more independent and ready themselves for post-secondary education or entering the workforce, now is the ideal time to give them the tools they'll need to master their own financial future. Mydoh can help spark your teens' financial independence with real-world experience of earning and spending their own money.