If your teen or tween is gaming online, chances are they're playing "multiplayer" games. Whether they're shooting hoops in the virtual NBA, building and defending virtual worlds in Minecraft, or fighting to be the last person standing in a Fortnite Battle Royale, multiplayer gaming lets kids play and compete with others—both friends they know and folks they've never met. Here's what parents need to know to feel secure about adolescents engaging in multiplayer games.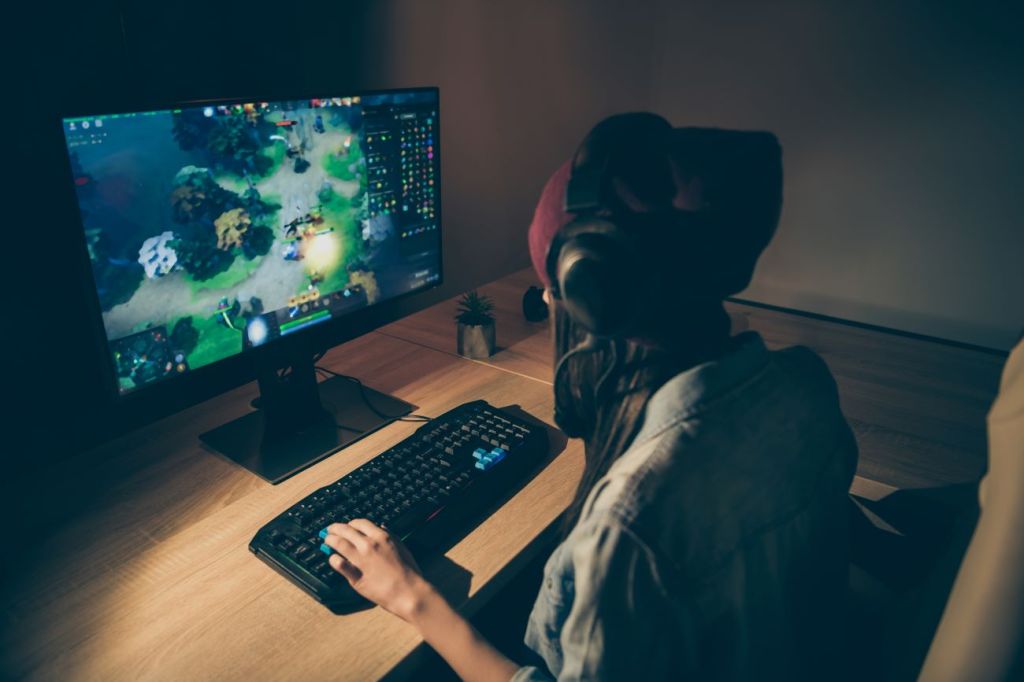 What are multiplayer games?
Simply put, a multiplayer game is an online video game that lets your child interact with other players. In these games, kids play competitively, cooperatively, or as companions in complex interactive worlds and challenges.
Most games played online today involve at least some interaction. That means that when your tween or teen is gaming, chances are high that they're playing with others: both friends they know, and other players around the world. Often, teens are also chatting with (or yelling at!) friends while they play, through a game's chat function or on separate apps like Discord, or both.
A multiplayer role-playing game (RPG) lets your kid create and develop a character (or avatar), and navigate with other avatars through a game world. 
Massively multiplayer online RPGs (MMORPGs) are RPGs on steroids: they offer a massive, online immersive experience that continuously evolves and expands to keep players engaged.
Why do teenagers like to play online games?
In a nutshell, multiplayer games are fun, and they're social: these games are so popular with teens and tweens because they like playing and interacting with friends.
How can online gaming benefit children?
Dig a little deeper, the and what's clear is that online gaming helps adolescents meet some basic psychological needs:
Video games can help teens feel competent. They pose just-hard-enough challenges to keep kids engaged and practising skills, to problem solve and to master tasks, and they provide constant feedback so the kids learn how to succeed.
Video games can give teens a much-needed sense of autonomy as they choose games, create avatars, design and build their ideal environments, and choose how and when to interact with selected peers.
Teens use games as a way to fulfil a deep human need for connection. Gaming is simply a huge part of the way kids socialize today: In the same way that their parents used to hang out at the mall or the schoolyard, or spend hours on the phone, our kids are hanging out with each other in virtual worlds. During the COVID-19 pandemic, for example, multiplayer gaming provided one of the only safe spaces for teens to hang out.
Multiplayer games provide safe spaces for kids having trouble fitting in at home or at school, or who are grappling with shifting identities. They can try on avatars and make up and experiment with different versions of themselves. In this way, gaming spaces can be a lifeline for youth—often especially for young people who identify as LGBTQ+ or nonbinary.
Looking to teach your kids healthier video game habits? Read our parents guide to video games for teens.
Most popular online games for kids
So, what are the kids playing these days? With literally thousands of games on the market, and with new ones and upgrades added constantly, it can be overwhelming to figure out what to play. Here are a few of the most popular multiplayer online games that are rated generally appropriate for teens:
Learn more: The parents' guide to Roblox.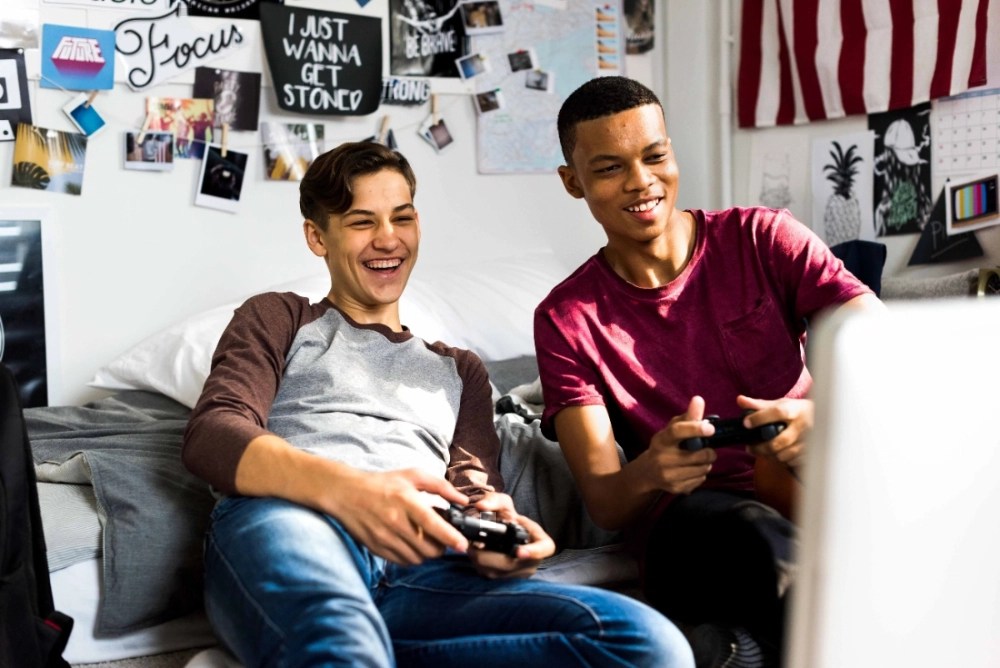 Online gaming safety tips for teens
Online gaming offers lots of benefits, and also poses some risks. Here are some of the top online gaming safety concerns that parents should be mindful of:
Privacy risks: Online games by definition let kids play and chat with gamers around the world, sometimes dozens or hundreds of people at a time. This can potentially put kids' privacy at risk, or expose them to malware or risky links in games' chat functions.
Inappropriate content: Teens and tween may encounter inappropriate content, including cursing; racist, sexist, or homophobic remarks; or other offensive content.
Bullying or "griefing": Other gamers might insult or get angry at a teammate who makes a mistake, gang up on or kill a player within a game, or exclude kids from a game.
Unintended purchases: Many, if not most, games provide opportunities to buy extra elements during the game. Kids may spend more money than they mean to, or more than you feel is appropriate. They may not even know that they've made a purchase— until it shows up on your credit card.
Health risks: Using digital devices a lot can strain the eyes, cause neck and shoulder pain, or contribute to conditions like repetitive strain disorders or carpal tunnel syndrome. Kids who game a lot may have less time for healthy activities like exercise, and may sacrifice sleep for play.
Gaming addiction: In very rare cases, your teen or tween may become "addicted" to gaming, neglecting school, family, health, and friends in order to play online as much as possible, and escaping into the world of games in order to avoid real-life challenges. And even if your child isn't clinically addicted to gaming, it can still feel as though they're playing too much, at the expense of other healthy activities.
Fortunately, most of these risks can be mitigated.
Parental controls for multiplayer games
Most gaming consoles, platforms and games come with parental controls that let parents set digital boundaries. Parental controls can allow parents to:
Stay in charge of the types of games kids can play
Manage whether kids can communicate with others online, and with whom
Prevent or require parental permission for in-app or in-game purchases, and limit the amount of time or the hours during which kids can play on a device. 
Talking to your kids about online gaming
Parental controls are only part of the equation. One of the best things that parents can do is talk to teens and tweens regularly about the importance of privacy, internet etiquette, and balancing gaming with other activities. Here are some helpful online gaming talking points to have with your children:
Privacy: Tween and teen gamers should know not to give out personal information or share photos with (or open files from) anyone online. They should know not to chat with strangers outside of the game on social media email or other platforms, and not to meet up with people who approach them online.
Bullying: It's easy to get caught up in the drama and excitement of gaming. But that doesn't mean that feelings can't be hurt. Talk to your kids about the importance of treating people respectfully and the dangers of bullying, and consider having them game in a public part of the house, without headsets, so that you can see and hear what's going on.
Health risks and addictive behaviours: Set limits on the amount of time your team or tween can play—and then stick to them. Encourage your child to take regular breaks during play, to find active and outdoor activities to complement gaming, and to separate gaming from snacking. Tie gaming to the completion of homework, chores, and other responsibilities, and consider implementing "screen-free" hours or evenings as part of your family's regular time together.
Multiplayer gaming can be a fun and fantastic way for teens and tweens to socialize and blow off steam. With the right and boundaries in place, parents can help set up kids for success, online and in real life.
How parents can better manage in-game purchases
The Mydoh app can help parents and their teens manage money with complete oversight. Parents receive notifications when their kids use the Smart Card to make purchases like online gaming subscriptions, in-app purchases, and more. Parents can have peace of mind knowing they can see where their kids are spending. Mydoh provides teachable moments that can help kids and teens develop the many skills they'll need in an increasingly digital future.
Download the Mydoh app to help your tweens/teens gain real-world experience and manage their spending.